Netanyahu Criticizes Foreign Peace 'Diktat' as Fabius Visits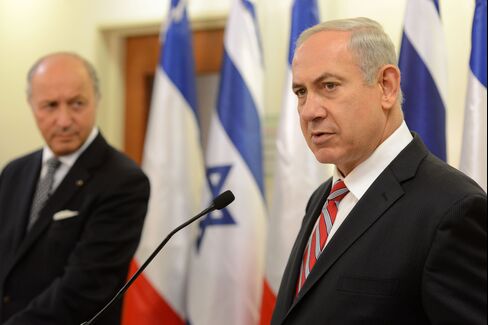 Israeli Prime Minister Benjamin Netanyahu said he rejects international efforts to force peace plans on Israel as French Foreign Minister Laurent Fabius visited to promote renewed negotiations with the Palestinians.
Fabius met Netanyahu in Jerusalem to discuss a French plan for a United Nations Security Council resolution that would lay out a timetable for peace talks. Fabius met earlier with Palestinian President Mahmoud Abbas.
The draft resolution calls for the establishment of a Palestinian state along lines that existed before the 1967 Middle East war. Israel rejects that basis for negotiations.
"A peace that isn't anchored in iron-clad security arrangements on the ground, in which Israel can defend itself, such a peace will simply not survive and we will not agree to it," Netanyahu told Fabius at a press conference before their formal meeting. "A peace deal that ignores these realities will be swept away by the winds of extremism and violence that blow throughout the Middle East."
Earlier, at his weekly cabinet meeting, Netanyahu said an Israeli-Palestinian agreement can only be reached through bilateral negotiations, "and we strongly reject attempts to force international diktat on us in regard to both security and peace."
The latest round of U.S.-sponsored peace talks between Israel and the Palestinians broke down last year amid mutual recriminations. Since then, the Palestinians have pursued initiatives to gain international recognition for an independent state while seeking to isolate Israel.
Debating 'Diktat'
"This word 'diktat' is part of neither French vocabulary nor the French proposals," Fabius said at a Ramallah press briefing after meeting Abbas, adding that his initiative shouldn't be prematurely judged.
Palestinian Foreign Minister Riad Malki said that Abbas told Fabius "the Palestinian ideas match those of the French," and their aim is to "revive the peace process and resume negotiations in order to end the occupation and establish a Palestinian state as part of a two-state solution."
Relations between Israel and France have also been strained in recent weeks after the chief executive officer of Orange SA, Stephane Richard, expressed the desire to end the French telecommunications company's commercial relationship with Israeli mobile phone provider Partner Communications Co., because the latter services Jewish settlements in the West Bank.
Richard retracted his comments after a storm of Israeli protest, and Fabius said his government opposes any boycotts or sanctions against Israel over its policies toward the Palestinians.
Before it's here, it's on the Bloomberg Terminal.
LEARN MORE