Billionaire Drahi Said to Bid $11 Billion for Bouygues Telecom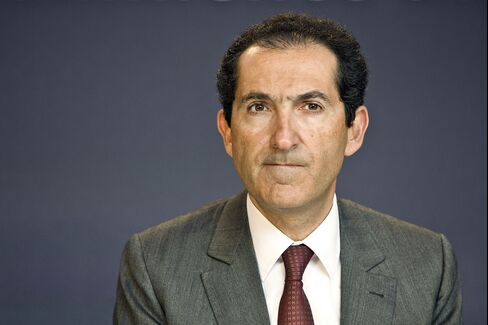 Billionaire Patrick Drahi made an offer valued at more than 10 billion euros ($11.4 billion) to acquire France's third-largest mobile-phone company from Bouygues SA, according to people with knowledge of the matter.
A successful bid would merge Bouygues Telecom with Drahi's cable and wireless provider Numericable-SFR SAS, said the people, who asked not to be identified because the discussions are private. Iliad SA, a smaller carrier controlled by Xavier Niel, has agreed to take on some network assets and airwaves to alleviate regulatory concerns, the people said. Bouygues's board will meet June 23 to discuss the proposal, they said.
While informal talks have been underway for months, negotiations accelerated in the last two weeks, the people said. Drahi, who beat Bouygues last year in a bidding war for SFR, decided to move more quickly as he's concerned that possible interest-rate increases and market volatility due to Greek bailout talks may it more costly to finance a bid, they said.
A combination of Numericable-SFR and Bouygues would create a company with more than 30 million mobile subscribers and revenue of over 15 billion euros, data compiled by Bloomberg showed.
Drahi, whose holding company Altice SA controls Numericable-SFR, is returning his focus to Europe after Altice agreed to acquire control of U.S. cable provider Suddenlink Communications in a deal valued at more than $9 billion last month. The 51-year-old continues to seek out assets to expand his telecommunications empire that stretches from France, Israel and Portugal to the Caribbean.
Financing Plan
Drahi has secured financing for the Bouygues Telecom bid, the people said. The offer would be paid in cash, with a loan from banks including BNP Paribas SA and JPMorgan Chase & Co., they said.
Representatives for Numericable-SFR, Iliad, Bouygues Telecom, BNP Paribas and JPMorgan declined to comment. Bloomberg reported in February that Drahi was examining the financial and regulatory obstacles to a deal as he stepped up plans for a takeover of Bouygues Telecom.
Telecommunications and cable companies are consolidating and taking advantage of cheap financing as they face increasing pressure to maintain profit growth. In May, Charter Communications Inc. agreed to buy Time Warner Cable Inc. for about $55 billion -- a deal made more expensive by last-minute competition from Drahi. The French tycoon eventually said Altice didn't make a bid because it wasn't ready for an acquisition of that size.
'Not Advisable'
Any deal for Bouygues Telecom is likely to face scrutiny from regulators, as well as potential pushback from the French government. Economy Minister Emmanuel Macron said on Sunday, after Journal du Dimanche reported the offer, that "the time isn't right."
"Consolidation isn't advisable for the sector," Macron said in a statement. "Employment, investment and giving customers the best possible service should be the priority."
Just last week, the European Union's top antitrust official, Margrethe Vestager, warned that she may take a tougher stance than her predecessor on the wave of mergers among telecommunications companies. Regulators will likely require the enlarged entity to sell some assets for the deal to be approved, one of the people said.
A successful combination of SFR with Bouygues would cut the number of network providers in France to three from four, following what has happened in Germany, Austria, Ireland, and more recently been proposed in the U.K.
SFR, Bouygues, Iliad and Orange SA discussed a similar plan late last year before talks fell apart, the people said. That preparation helped Drahi move faster this time, they said.
Orange isn't part of any talks or deals at this point, but is open to discussions about consolidation in France, said a spokesman for the carrier.
The French phone carriers will also have to reassure the country's government that they will bid in the upcoming 700 megahertz spectrum auction to allow the state to raise its budgeted revenue from that sale, the people said.
Before it's here, it's on the Bloomberg Terminal.
LEARN MORE