Activist Hedge Fund Wins in Private as Japan Tobacco Says No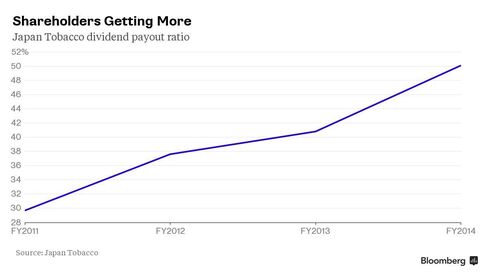 For four years a hedge fund urged one of Japan's oldest companies to raise its dividend, and each time the answer in public was no.
Behind the scenes, something else was happening. Though it lost every proxy fight, the Children's Investment Fund claims a list of wins. Japan Tobacco Inc. boosted its payout ratio and said it would exit its beverage businesses. The state sold some of its stake. Since May 2011, the month the fund says it first met with management, the shares surged more than 180 percent.
The Children's Investment Fund versus Japan Tobacco shows activism can pay in a country where many scoffed at the suggestion. It's a case study that matters as Japan Inc. prepares for more barbarians at its gate.
"We asked for, let's call it 100, and they gave us 50," said Oscar Veldhuijzen, the 46-year-old Dutchman responsible for the investment at the fund known as TCI, who says they've sold some of the stake. "Our game was not necessarily to win the AGM proposals, but to move them, put pressure on them. This has been a great success for us."
This is a country where silent shareholders are no longer tolerated, with the once-reviled activist playbook finding new friends in the nation's establishment. In just two years, the government started rules for investors and companies, built on the idea stock owners should push management to boost returns.
"The system is more open to it," Veldhuijzen said. "We helped push the door a little bit further open."
No Influence
Activists from Third Point's Daniel Loeb to Oasis Management's Seth Fischer have had success in Japan as the nation changes its attitude to corporate governance. Loeb took on the secretive robot-maker Fanuc Corp., which later said it would pay more to shareholders and start an investor relations department. Fischer called for the strategy u-turn at Nintendo Co. before it was unveiled in March.
For Japan Tobacco, the former government monopoly set up in 1898 for the sale of domestic leaf, it would be wrong to overstate TCI's role in the changes at the company. Japan Tobacco followed its principles and made decisions itself, spokesman Dmitry Krivtsov said by e-mail.
"Of course, they say in public that it was all their initiatives," said Veldhuijzen. "I don't mind so much, because for us it's about results, and not necessarily about credibility or reputation. However, I think they are pleased, and they actually see, that a lot of what we mentioned wasn't just short-term behavior."
Dividend Payouts
Whoever came up with the changes, the facts are harder to dispute.
Japan Tobacco lifted its dividend payout ratio to 50.1 percent in the year ended March from 29.7 percent three years earlier. TCI urged it to repurchase 150 billion yen ($1.2 billion) of shares in January. A month later, Japan Tobacco said it would buy back 100 billion yen.
Pressure from TCI didn't influence the decision, Japan Tobacco's Krivtsov said.
After the March 2011 earthquake, the Ministry of Finance decided to sell some of its stake to fund reconstruction in the devastated regions. It cut holdings to about 33 percent in 2013 from 50 percent, with the cigarette company pledging to buy back as much as 250 billion yen in shares. Japan's government has decided to shelve the sale of its remaining stake, the ministry said today in Tokyo.
Beverage Business
In February, Japan Tobacco surprised investors by saying it would sell its drinks operations. Since 2011, TCI had been criticizing the company's strategy of running businesses other than tobacco.
While the fund drew on the standard weapons in an activist's arsenal, from proxy fights and open letters to a website to drum up support from other investors, Veldhuijzen is adamant about two things.
First, there's no value in activism if the investment itself doesn't make sense. Second, while aggressive public pressure is fine, it needs to be accompanied by dialogue behind the scenes or it won't work in Japan.
It's something TCI learned the hard way. The fund made little progress in a bitter battle to make Electric Power Development Co., known as J-Power, raise dividends and sell cross-shareholdings. The government also rejected TCI's application to increase its stake in the company, citing national security. TCI sold in 2008 and moved on. At Japan Tobacco, it took a different tack.
Constructive Pressure
"It was a very constructive process," Veldhuijzen said. "We wanted them to lay out reasons why they disagreed with us, in public, which they did."
TCI had some impact, says Masashi Mori, who covers Japan Tobacco as an analyst at Credit Suisse Group AG and rates the stock a buy.
"Their demands had meaning in terms of making the company aware of profitability and shareholder returns as one of the big four in the global tobacco industry," he said. Still, Mori says, Japan Tobacco had its own plans and probably wasn't swayed by shareholder pressure.
Veldhuijzen, for his part, has more requests. He'd like higher dividends, more buybacks, better executive pay and foreigners on the board.
Expect more activism in Japan, he says, but it's going to be different. Before the financial crisis, funds picked on smaller firms, seeking to squeeze cash off their balance sheets. The next wave will be more advanced.
"It's less short-term. It's more constructive," he said. "There is greater interest and pressure from within."
Before it's here, it's on the Bloomberg Terminal.
LEARN MORE