Demonstrators March on U.K. Parliament to Protest Austerity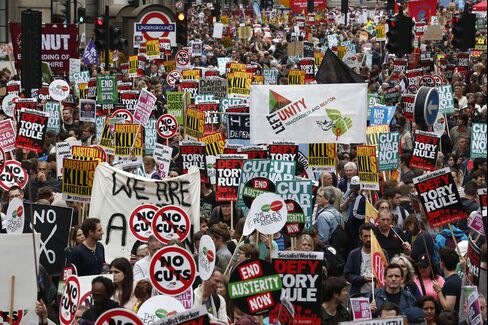 Thousands of people from across the U.K. marched from the Bank of England to Westminster on Saturday to protest planned government spending cuts.
The organizers said 250,000 people attended the events in central London, the Press Association reported. A Metropolitan Police spokesman declined to give an estimate. No incidents were reported during the demonstrations, he said.
The People's Assembly Against Austerity, which organized the rally, says the new Conservative government will deliver "nasty, destructive cuts" to the National Health Service, welfare, education and public services. It staged the march "right on the doorstep of the very people who created the crisis in the first place, and marching to the doorstep of Parliament," according to a statement on its website.
The Conservatives' surprise outright victory in last month's election means they can implement their manifesto without having to offer concessions to coalition partners.
Chancellor George Osborne, who will announce a budget next month, is seeking 30 billion pounds ($48 billion) of spending cuts by 2018, including 12 billion pounds of welfare savings, to help return Britain to a surplus.
"There's no need for austerity," said Ray Hutchinson, a pensions administrator at the National Health Service as he marched toward the start of the procession. "We should be investing in infrastructure, getting more jobs, which will then pay taxes and then pay off the debt."
The organizers expected at least 100,000 protesters from across the country, Steve Turner, national chair of the People's Assembly and assistant general secretary of Britain's biggest trade union Unite, said near Bank underground station. When asked which measure of Prime Minister David Cameron's government the demonstrators oppose most strongly, he said "We are unhappy with austerity full stop."
Before it's here, it's on the Bloomberg Terminal.
LEARN MORE