Ukraine Said to Give Creditors Few Weeks to Accept Writedown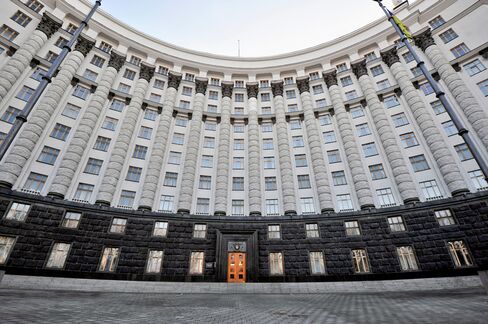 Ukraine is giving its creditors a few weeks to accept a proposal submitted on Friday to restructure $19 billion of debt before imposing a moratorium on payments, according to a person familiar with the talks.
The offer involves a 40 percent reduction in the face value of sovereign bonds, said the person who asked not to be identified because the details are private. The nation's $1.25 billion of notes due April 2023 are headed for their worst week since March as the government struggles to bridge a divide with bondholders who insist avoiding a so-called haircut is the best way to avoid alienating future investors.
"The moratorium threat is quite credible," Giuliano Palumbo, a Milan-based money manager who helps oversee $3 billion in emerging-market debt for Arca SGR, including Ukrainian bonds, said by e-mail. "Hopefully this could accelerate the process."
The eastern European nation needs to convince bondholders including its biggest, Franklin Templeton, to give it debt relief after fighting with pro-Russian separatists sent the economy into a tailspin. The proposal submitted today is based on the nation's worsening economic outlook after the International Monetary Fund downgraded its recession forecast for this year to 9 percent from 5.5 percent, Finance Minister Natalie Jaresko told reporters in Kiev today.
'Substantial' Cut
She didn't specify the size of the writedown being sought, but said the offer includes a "substantial" haircut, coupon reductions and maturity extensions. The government plans to honor a coupon payment due to Russia, its second-biggest creditor, on June 22, she said.
Ukraine is also proposing a "value-recovery instrument" that would be applicable if the situation "significantly and durably" improves beyond projections set out in a $17.5 billion IMF loan program, the Finance Ministry said in an e-mailed statement.
The plan "will ensure Ukraine cuts its debt burden to acceptable levels," Jaresko said. "If there is no real progress in talks in near future, if creditors do not use the last chance to reach an accord, Ukraine have a full moral and legal right to take a decision" on a moratorium, she said.
Ukraine's April 2023 bonds slid 3.54 cents on the dollar this week to 50.96 cents by 5:24 p.m. in Kiev, the most since the period ended March 20.
IMF Package
Targets in the IMF package require Ukraine to generate savings of $15.3 billion in payments on external bonds over four years, cut debt to 71 percent of gross domestic product by 2020 and reduce the budget's gross-financing burden. A four-member creditor group owning $8.9 billion of sovereign debt insists IMF conditions can be achieved with a package that includes coupon reductions and maturity extensions and no haircut.
The creditor proposal was "not acceptable" because it would require the country to dip into reserves for $8 billion to repay debt, Jaresko said. Ukraine's government, the IMF and creditors will hold a meeting in Washington next week, she said.
Creditors said today their proposal is the best way for Ukraine to meet IMF criteria while maintaining access to capital markets. The group has "just received a proposal from Ukraine and will respond in due course," it said by e-mail. "We remain willing to meet and discuss the issues once we have received important outstanding information requests."
Writedown Excessive
IMF Managing Director Christine Lagarde said today reaching a deal with creditors is crucial. The success of Ukraine's program rests ''on the rapid completion of the debt operation,'' she said in an e-mailed statement.
A 40 percent writedown is ''too much to be an acceptable compromise,'' Lutz Roehmeyer, who oversees about $1.1 billion of emerging-market debt at Landesbank Berlin Investment GmbH in Berlin, including Ukrainian debt, said by e-mail. ''If creditors have to get real, the Finance Ministry of Ukraine has to get real as well. That way will lead into trouble and not to a negotiated compromise.''
Jaresko said Ukraine will make a $75 million coupon payment next week on $3 billion in bonds bought by Russia before former President Viktor Yanukovych was overthrown in February 2014. While Ukraine has said it seeks to include the notes in its restructuring, Russian has repeatedly rejected talks and says it expects the bond to be paid back in full.
Before it's here, it's on the Bloomberg Terminal.
LEARN MORE