Trump's Other Lofty Aim: Bringing the U.S. Open to NYC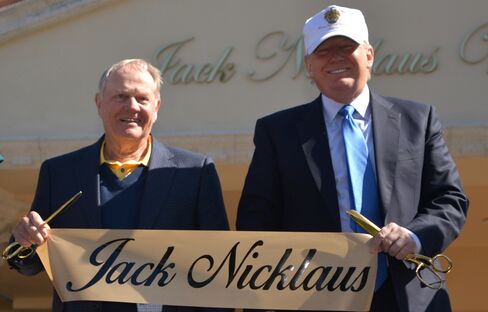 As Donald Trump and Jack Nicklaus prepared to tee off on the 18th hole at Ferry Point, a helicopter with "TRUMP" emblazoned on the side lifted off from the nearby driving range and flew overhead.
Trump, who carries a 3-handicap, capped off the showmanship in May with a straight drive down a fairway lined with humps of wispy grass on the new links-style city course in the Bronx that his company manages.
The billionaire's bid for the White House isn't his only lofty ambition: he plans to bring the first U.S. Open or PGA Championship to New York City at Trump Golf Links at Ferry Point.
New York paid about $270 million -- more than 30 times the average cost of a golf course -- to create the layout on top of a garbage dump. A major tournament at the course, which opened in April, could generate hundreds of millions of dollars for businesses and help the city recoup its investment. But competition to host a major championship is fierce and 2022 would be the earliest New York could hope to land one.
"It's really built for U.S. Opens and PGA Championships," Trump said. "If we could hold a tournament like that, with all the hotels that are being used, all the restaurants, they'll get their money back very fast."
Nicklaus, who remains golf's greatest champion with 18 major victories, said the course would need only fine tuning -- perhaps some new tee boxes and bunkers to tighten landing areas -- to be ready for a U.S Open. The par-72 layout, with its views of the Manhattan skyline, is 7,407 yards long from the back tees and has a 76.3 difficulty rating. That's almost identical to Baltusrol Golf Club in New Jersey, a seven-time U.S. Open site and host to next year's PGA Championship.
Nicklaus' View
"The golf course is sort of the shell of what you'd have for a major championship," said Nicklaus, who designed it. "As is, if you brought any PGA Tour tournament here today, they'd find it challenging, interesting and I think they'd walk away saying, 'Hey, when can we get back there again?'"
The 2015 U.S. Open is now under way at Chambers Bay Golf Course, a links-style municipal layout overlooking the Puget Sound near Seattle. In hosting its first major championship, Chambers Bay exemplifies the USGA's recent practice of bringing the U.S. Open to public venues.
A U.S. Open at Ferry Point, the most expensive municipal course ever built, could generate $200 million in direct and indirect spending for businesses in the New York City region, said Gene Brothers, an associate professor of equitable and sustainable tourism at North Carolina State. Brothers, who conducted an economic impact study for last year's U.S. Open at Pinehurst Resort in North Carolina, based his estimates on spending for food, lodging and retail goods as well as employee salaries during the one-week tournament, which typically draws more than 200,000 spectators.
Bethpage Rivalry
Andrew Zimbalist, a sports economist at Smith College, said the city should temper its expectations of a windfall from Ferry Point. A major there would likely come at the expense of another nearby venue, such as Winged Foot in Westchester or Bethpage Black in Long Island.
"People stay in the city," Zimbalist said. "So the tourist traffic is not all net new."
USGA executive director Mike Davis, who is in charge of the U.S. Open course setup and helps select the sites, said he was intrigued by the Nicklaus layout during a tour before it was finished. The course is also in the nation's biggest media market -- boosting appeal for sponsors as well as corporate and broadcast partners.
Barclays Rejected
"With all the millions of people who live in New York, to be able to go to a city course that has that kind of quality, that's really neat," Davis said. "But it's so early in the process that we honestly haven't done any real assessment of the golf course yet."
Trump recently rejected offers for Ferry Point to host two prestigious PGA Tour FedExCup playoff events, called the Barclays, according to two people familiar with the negotiations.
"We've turned down tournaments because we're looking for the biggies," Trump said.
Peter Mele, executive director of the Barclays, said no specifics have been discussed about adding the course to the rotation for the event.
Ferry Point, which began under former Mayor Rudy Giuliani, was built on a closed landfill that became an illegal dumping ground for hazardous industrial waste. Construction was plagued by delays -- building, legal and environmental -- and cost overruns that led the price to soar 12 times above the original estimate.
New Club House
To create humps and hills more fitting to a Scottish links course, builders used material from construction of the World Trade Center and subway lines. Vents scattered throughout the property to let methane gas escape serve as a reminder to golfers of the course's roots as a dump.
In 2011, while Michael Bloomberg was mayor, the city hired Trump's golf management company to finish the course and run it after an open bidding process. Trump agreed to invest $10 million for a clubhouse and cover the costs of the two-year grass grow-in period before Ferry Point opened. Bloomberg is the majority owner of Bloomberg LP, the parent company of Bloomberg News.
"It was difficult to find someone willing to make that kind of commitment," said Anthony Macari, director of concession architecture for the city's parks department. "Mr. Trump jumped in with both feet and made a major investment to the city. If he's successful, we're successful."
Trump's golf division obtained a 20-year lease with more favorable terms than managers of the city's 13 other courses. The company, which covers the maintenance costs other than water, won't make payments to the city for the first four years of the agreement.
Packed Course
In years five to nine, Trump has to pay the bigger of either $300,000 or 7 percent of gross receipts from greens fees, and 3 percent of food and beverage revenue. The payments increase to $470,000, or 10 percent of gross receipts, by the final year of his contract.
The course has been packed since it opened two months ago, with about 3,000 rounds played in its first month. Ron Lieberman, who oversees the project for Trump, said he expects to easily surpass the first-year projection of 20,000 rounds.
New York residents pay $169 for a weekend round and non-residents are charged $215. At the current pace, Ferry Point could produce about $5 million in revenue this year in green fees, typically the largest source of sales at a public course.
Next Major
Trump will have to wait at least seven years to lure a major. The U.S. Open has booked locations through 2022 and the PGA Championship is committed through 2021. The following year the event will go to Trump's private club in Bedminster, New Jersey.
Johnson Wagner, a three-time PGA Tour winner, said Ferry Point would challenge the world's best golfers. Wagner, whose most recent win came at the Sony Open in Hawaii in 2012, played the city course last year.
"There's so many incredible private clubs in the New York area and I put Ferry Point right up there with a lot of them in terms of quality, layout and design," said Wagner, who grew up just outside the city.
Trump said even if it doesn't host a major championship, Ferry Point is still a boon for New York.
"It'll be an environmental success," he said, "It'll be an aesthetic success and it'll be a tremendous success for the neighborhood and the area."
Before it's here, it's on the Bloomberg Terminal.
LEARN MORE