Thoroughbred Worth $150 Million Adds to Saudi Prince's Fortune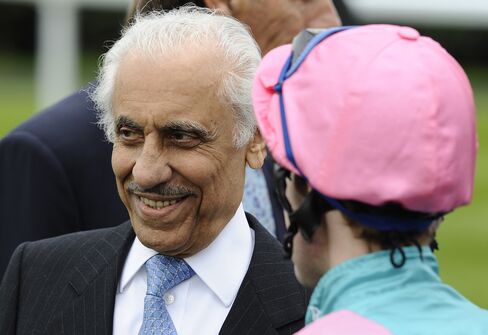 To the Ascot Racecourse, which the Queen of England visited this week to unveil a bronze statue in his honor, Frankel is the greatest flat racehorse of all time. In a three-year career, the thoroughbred has collected almost 3 million pounds ($4.8 million) in winnings.
Now that he's retired, the real money comes.
"The key to all valuations in the horse business is that the breeding side is worth about 10 times the racing side," said Bill Oppenheim, an independent thoroughbred market analyst. "He who has the best stallion is king."
In this case, the king is a prince. Saudi Prince Khalid Abdullah Al Saud bred Frankel in 2008 and he's become the crown jewel of a string of 259 stallions and mares valued at almost $400 million, according to the Bloomberg Billionaires Index.
Frankel is part of Al Saud's Juddmonte Farms Group, one of the prince's most valuable assets. Together with a 39.5 percent stake in pay-television provider OSN, held through a Riyadh-based investment group, Mawarid Holding, Al Saud has a net worth of at least $1 billion according to the index.
Based on recent transactions of syndicates owning similar-caliber studs, such as Tapit, Frankel is valued at $150 million.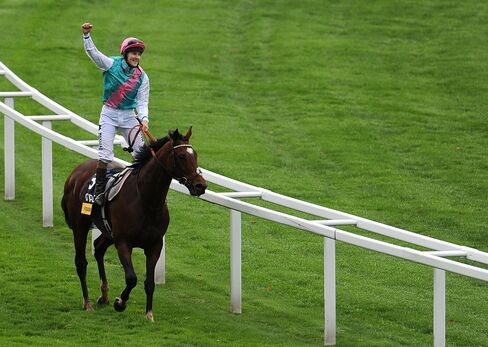 "He's priceless, he's got it all," said Nancy Sexton, a thoroughbred analyst. "He has the breeding, the looks and a very, very good family."
Al Saud couldn't be reached for comment.
Juddmonte CEO Douglas Erskine Crum disputed the valuation and declined to discuss the prince's net worth, though he did talk about his breeding operations in an interview at Al Saud's private office in a townhouse in London's Knightsbridge section.
Successful Lineage
Frankel's bloodlines are a personal achievement for Al Saud, Crum said. The billionaire, a cousin of Saudi Arabia's late King Abdullah, has spent the past 30 years building and refining some of the world's most successful racehorse lineages.
A white-socked, musclebound bay, Frankel is one of nine stallions at Juddmonte. He's named after the late Bobby Frankel, the trainer who orchestrated many of Al Saud's greatest victories in America, including the win in the 2003 Belmont Stakes with Empire Maker that denied a rival's Triple Crown bid. As a stud, Frankel commands 125,000 pounds for every foal he sires. The rest have stud fees between $15,000 and $160,000.
By comparison, the stud fee of recent Triple Crown-winner American Pharaoh is expected to be around $75,000. Collectively the studs will "cover," or mate with, about 750 mares per season, Crum said. While the stallions have considerable commercial value, Juddmonte's band of 250 broodmares form the operation's most prized asset.
Prized Collection
"In over 30 years, Prince Khalid has built up a collection of probably the greatest broodmares in the world," Crum said.
Al Saud buys very few horses, meaning virtually all of Juddmonte's champions, which have won at least 100 of the world's most elite races, are bred by the billionaire.
His best mares, mothers of consistent winners, are valued at around $10 million each, according to Oppenheim, who suggests that the standard industry multiple for stallions is 300 times their stud fee. In-demand stallions typically service about 300 mares before their first foals begin racing and more than 1,500 over their lifetime. Should the first foals race well, a stallion's stud fee can increase substantially.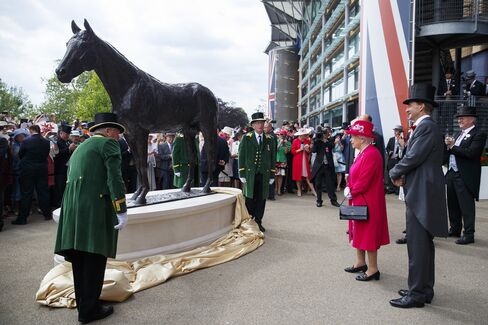 Diverse Holdings
Al Saud first became interested in horse racing in the late 1970s after a visit to the Longchamp racetrack in Paris, Crum said. Enlisting the help of some of the industry's best agents and trainers, he began to assemble his own stable. Today, his breeding farm has 300 employees and uses top trainers including last week's Triple Crown-winner, Bob Baffert.
Eight Juddmonte horses are being sent to race at Royal Ascot this week under the billionaire's trademark green, white and pink silks. They'll be joined by 300,000 spectators, many clad in top hats and fascinators. The Champagne-sipping crowd will watch almost 400 of the world's best racehorses vie for 5.5 million pounds in prize money.
Juddmonte spans six farms covering more than 5,000 acres in England, Ireland and Kentucky. Despite the vast size, Crum said the farm is merely "a hobby" for Al Saud. In the Middle East, he's invested in more than a dozen industries, such as insurance, financial services and poultry farming through Mawarid, according to one its subsidiary's websites. Most of his interests are closely held and few aside from OSN disclose financials.
Best Horses
Crum said Al Saud, who was born in 1937, according to the National Thoroughbred Racing Association, spends most of the racing season in Europe, watching and enjoying his horses.
The best of Al Saud's horses, the ones with the most victories, finest bloodlines and best conformation, return to Newmarket or to his farm in Kentucky after their racing career to be stallions or broodmares, Crum said. Those who don't make the cut are sold, often for more than 500,000 pounds, at auctions such as Tattersalls, Europe's largest thoroughbred auctioneer.
The extraordinary value of Juddmonte's bloodlines is reflected in the prices paid for Frankel's offspring. In November, one of Frankel's fillies sold for a record 1.8 million euros ($2.1 million) at Goffs auction in Ireland. Five months earlier, another foal was sold alongside his mother for 1.2 million pounds.
And it's still not certain that Frankel's progeny can run. Most thoroughbreds start their racing careers as two-year-olds, so his first batch of foals won't hit the track until next year.
"Frankel was the best racehorse ever, better than Secretariat," said Oppenheim. "There's no guarantee he will be as good a sire as he was a racehorse. But he's got the greatest shot that any horse has ever had in history."
Before it's here, it's on the Bloomberg Terminal.
LEARN MORE