From steak frites to pot-au-feu, the French eat twice as much beef as the average European and yet, farmers say they can't make a living.
Squeezed by 16 months of falling prices and a shrinking export market, French cattle farmers turned to protests this week at 18 slaughterhouses around the country. Earnings dropped 22 percent in 2014 and the average breeder made 14,500 euros ($16,498), less than minimum wage and about 40 percent below the farm-industry average, government estimates show.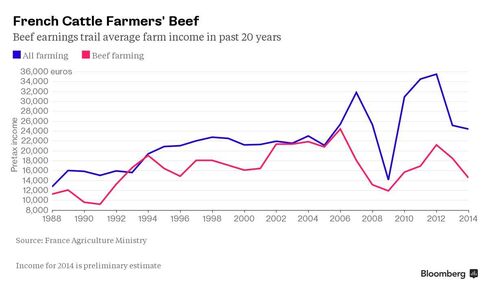 Raising cattle in France, home to one in every five cows in the European Union, is a losing business for many farmers as consumer tastes shift from choice cuts of steak to cheaper food like chicken and hamburger. Pierre Vaugarny, who raises 70 cows on a farm 170 kilometers (106 miles) southwest of Paris, said his parents had a higher standard of living with a herd half the size.
"Prices are completely disconnected from reality," Vaugarny said by phone on Sunday from a protest outside a slaughterhouse. "This is unfortunately a profession that trails all the others."
Dozens of farmers had protested at meat-processing plants around the country, blocking sites representing about 60 percent of the industry. Slaughterhouses, represented by groups including SNIV-SNCP, agreed on Wednesday to raise prices by 5 cents per kilogram a week until they cover costs. The government also plans to set up an organization to coordinate exports and promote French beef abroad.
Move Forward
The protests helped "move things forward," Agriculture Minister Stephane Le Foll said after industry talks in Paris. "The industry is not saved. It's not as simple as that."
Low wages and the stress of rearing animals have taken a toll. More French livestock companies were in bankruptcy or judicial restructuring last year than anytime since at least 2003, according to Altares, a Nanterre, France-based data-analysis firm. Suicides among beef farmers were double the rate of the general population in 2008 and 57 percent higher in 2009, according to a study by the French Institute for Public Health Surveillance.
Earnings for beef farmer probably continued to deteriorate this year, according to the Federation Nationale Bovine.
"The income no longer stands in any relation to the work we do," said Dominique Fayel, who raises Limousin calves, a breed native to France, at his farm in the southern Aveyron region. "Just hanging on is not a goal in itself."
While the French consume 20 percent less beef than they did in 1990, the nation is still one that loves meat. The average citizen eats almost 24 kilograms of beef (53 pounds) a year, data from the European Commission show.
The country has failed to find an appetite for its beef overseas. Exports fell 6.5 percent last year and prices for a young bull carcass dropped to 365.90 euros per 100 kilograms in May, the lowest in five months, data from Eurostat and the EU show.
By comparison, Ireland, the EU's second-biggest beef exporter, increased exports by 14 percent last year. Prices are 400.74 euros per 100 kilograms, the highest since July 2013.
"We're not competitive," said Arnaud de Bantel, a banking adviser to the food-processing industry at Credit Agricole SA. "We're not selling cognac or foie gras. We're not selling a typical French product."
Read this next:
Before it's here, it's on the Bloomberg Terminal.
LEARN MORE