Standard Life Names Keith Skeoch CEO to Succeed David Nish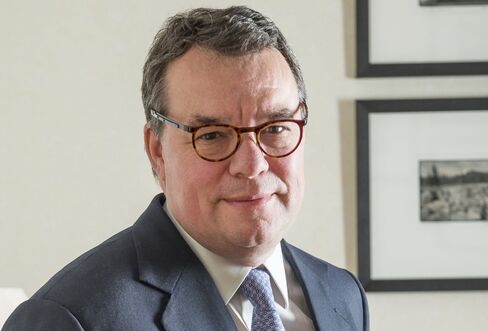 Standard Life Plc named Keith Skeoch chief executive officer to replace David Nish, who is stepping down after six years, as Scotland's biggest insurer shifts its focus toward asset management.
As head of Standard Life Investments since 2004, Skeoch has helped developed the fund management unit into a "global player," the Edinburgh-based company said in a statement Friday. Nish will leave the position on Aug. 5.
"This signals the completion of a transformation program of Standard Life from a life insurer to an asset gatherer/manager," wrote analysts at Sanford C. Bernstein led by Edward Houghton in a note to investors. "Standard Life Investments is increasingly the engine of growth."
Nish, 55, had been reshaping Standard Life into an fee-generating asset management business, while cutting back on operations that require more capital, selling its Canadian division to Manulife Financial Corp. for 2.2 billion pounds ($3.5 billion). The company bought Ignis Asset Management Ltd. in March, helping boost assets and fee-based revenue.
Skeoch "has an exceptional understanding of world markets and the opportunities they offer, and has the right talent and experience to continue to deliver our strategy," Chairman Gerry Grimstone said in the statement.
Profit Rise
Skeoch's asset management business reported a 30 percent increase in operating profit to 257 million pounds last year, helping the company's profit climb 19 percent to 604 million pounds.
The shares rose 0.2 percent to 474.1 pence at 8:53 a.m. in London, valuing the company at 9.3 billion pounds. The main FTSE 100 was little changed.
Standard Life may pay Skeoch as much as 5.4 million pounds, including a salary of 700,000 pounds, an increase of 200,000 pounds on his current salary. He's entitled to a bonus of as much as 175 percent of base pay and long-term share awards of five-times salary, the company said.
Nish, who said on a conference call with reporters that his departure presents "new opportunities" in his working life, isn't permitted to seek another job until March 31.
Before it's here, it's on the Bloomberg Terminal.
LEARN MORE