Reed, Spieth Share U.S. Open 36-Hole Lead; Woods Misses Cut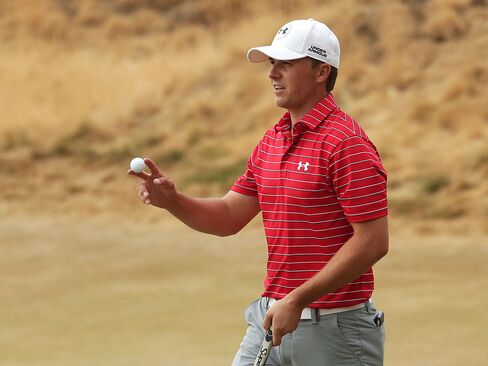 Patrick Reed and Jordan Spieth are tied for the lead entering the third round at golf's U.S. Open, where Tiger Woods missed the cut after the worst 36-hole performance of his career and Phil Mickelson slipped eight shots behind.
Reed and Spieth are both 5 under par, one stroke ahead of fellow American Dustin Johnson and South Africa's Branden Grace at Chambers Bay Golf Course outside Seattle. The last six major championship winners, including Spieth at April's Masters Tournament, have led after two rounds.
Of the top 16 players on the leaderboard -- the only ones under par -- only Spieth, 21, has won a major title. Reed said he still thinks it's a tournament that anyone can win.
"If a guy gets hot and shoots 7- or 8-under par, who knows what he's going to do with the scoreboard," Reed said after his 1-under-par 69 during the second round. "That's how it is at every U.S. Open. It seems like until the 72nd hole is done, it's anybody's game."
Reed made five birdies, an eagle and six bogeys on Friday while playing in one of the late-afternoon groups. He held the outright lead at 6 under before making a bogey on his final hole to fall back into a tie with Spieth.
Spieth shot a 3-under 67 in the morning wave on Friday to follow up his first-round 68. He's looking to become the youngest golfer to win two majors since Gene Sarazen in 1922 and the youngest U.S. Open champion since Bobby Jones in 1923.
Final Group
Reed and Spieth are in Saturday's final group, starting at 2:50 p.m. local time, 5:50 p.m. in New York. Amateur Nick Hardy was the first off the tee in the third round, while U.S. Open winners Webb Simpson and Angel Cabrera -- both 5 over -- were among those in the early groups.
Johnson and Grace are one shot better than Joost Luiten, Tony Finau, Daniel Summerhays and Ben Martin, who had four previous U.S. Open appearances -- and four missed cuts -- among them. Johnson was tied for the lead after the first round and got as low as 7 under par before making three bogeys over his final five holes on Friday. He carded a second-round 71 to slip into a tie for third place.
"I like where I'm at," Johnson said. "We've still got 36 holes of golf left."
Rory McIlroy, the No. 1-ranked golfer in the world and 2011 U.S. Open winner, is 4 over after a second straight 72. He still fared better than defending champion Martin Kaymer of Germany, who missed the cut at 6 over.
Rounds of 66
Among those three shots off the lead at 2 under is J.B. Holmes, who shot 66 on Friday to tie Louis Oosthuizen for the best score of the second round, and Jason Day, who caused a scare when he collapsed on his final hole due to dizziness.
Henrik Stenson, who was tied for the lead with Johnson after the first round, is 1 under after a second-round 74. A total of 16 players in the 156-man field are below par, with 75 making the field for the final two rounds.
Spieth closed his round with an 8-foot birdie putt on the par-3 ninth hole to regain a share of the lead. The last of his six birdies came after Day's collapse caused a delay of several minutes.
"It doesn't matter when it is, if you shoot in the 60s at a U.S. Open you're going to be pleased," Spieth said.
Day, who has suffered from vertigo, was able to finish his round after receiving medical treatment and his agent said in a statement that he hopes to play over the weekend.
Mickelson faltered in his quest for the career Grand Slam, following up his first-round 69 with a 74 on Friday that included five bogeys and just one birdie.
"It was a tough day and I need to regroup," said Mickelson, a record six-time U.S. Open runner-up. "I've got to come up with a game plan and come up with a hot round."
Woods missed the cut for just the second time in 19 U.S. Open appearances after rounds of 80 and 76. The combined score of 156 is his worst in 308 professional starts on the PGA Tour.
"On a golf course like this you get exposed and you have to be precise and dialed in," said Woods, who hit only 57 percent of his fairways and averaged 36 1/2 putts per round. "And obviously I didn't have that."
Before it's here, it's on the Bloomberg Terminal.
LEARN MORE