Scene Last Night: Moelis, Navab, Leeds, Taubman, Ziff, Goodman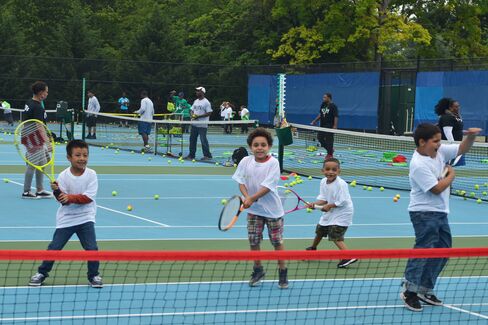 The interns have taken over the office. Playgrounds, pools and subway cars are filling up with seven-year-olds squealing and jumping in the middle of the day. When school's out and temperatures rise, young people own the city, and that's good for the rest of us. Seeing their potential reminds us of where we started and how we might help others on their way.
So this week, some mentored; others played softball, knowing they'd be outrun. Goldman Sachs interns presumably did as they were told and left before midnight. And Paul Taubman, Ken Moelis and Edwin Goodman each attended a different event focused on helping disadvantaged youth.
Moelis opened Youth Inc.'s State of the Market Conference on Thursday, a fundraiser for the organization's venture-capital and private-equity-inspired work. As Alex Navab of KKR, co-chair of Youth Inc.'s National Advisory Board put it in a telephone interview before the conference, Youth Inc. "invests" in small nonprofits it deems under-resourced and capable of more, "and empowers them to build and grow."
Among the 57 groups currently receiving assistance are Play Rugby USA, Girls for Gender Equity, Bent on Learning and Arts to Grow. Some of the nonprofits learn fundraising, others get trained in developing program metrics, and still others receive help in building a strong board, including placements of finance professionals.
Bronx Tennis
"Our idea is to get everyone off the sidelines and into the game," said Rehana Farrell, Youth Inc.'s executive director, at a dinner following the conference, where guests included Matthew Stopnik of RBC Capital Markets and Paul Aversano of Alvarez & Marsal. "Whether you're passionate about the arts, or education, or social justice or sports and fitness -- whatever got you to where you are today, connect with that."
In Crotona Park, the Bronx, on Monday, a few dozen kids hit balls on 20 brand-new tennis courts as Taubman, Daniel Ziff, E. John Rosenwald, 1951 Wimbledon champion Dick Savitt and Billy Macklowe arrived to inaugurate the Cary Leeds Center for Tennis & Learning.
The complex, operated by New York Junior Tennis & Learning, will offer tennis and academics to thousands of elementary, middle and high school students.
Next year, the center will add two stadium courts with room for a thousand spectators to attract college-level and professional players to play in the Bronx -- and stoke the ambitions of the kids.
Cary Leeds
"The next Serena or Venus could come out of the center," said Tracy Leeds, one of Cary's two sisters.
Cary was a number one tennis player at his high school, Collegiate, as well as Yale, and competed in six U.S. Open and five Wimbledon tournaments. He died in 2003 at the age of 45.
"It's so sad and terrible that he's not with us, but there's nothing we can do about that," said his father, Larry Leeds, chairman of Buckingham Capital Management. "He made such an impact while he was alive. The coming-to-be of this center in his name really gives meaning to his life."
Tracy recalled his commitment to teaching young people, including herself. "What older brother comes to your matches and keeps a statistical record of every point and goes over every point with you?" she said. "At his core, he was a tremendous, caring, generous human being and he'd be overwhelmed by this."
Lines in white spray paint on the dug-up ground demarcated the general area where the stadium courts will be built.
Kiam Rivalry
"Go ahead, take my picture with dirt," said Peter Gluck, the center's architect, standing on the terrace of the clubhouse he designed. Then he commenced a brief tour, walking inside toward a portrait of Cary playing tennis and then heading down the stairs, which culminate in a landing of tennis balls. The lower level features classrooms and changing rooms, as well as an outdoor courtyard that puts viewers on the level of players on the lower stadium court.
Cary's parents, Larry and Dalia Leeds, worked for 10 years to create the center, with Dalia contributing design ideas. As hundreds of people filled the clubhouse, it was clear the team has created a magnetic space, to borrow an adjective that many people used Monday night to describe the tennis player for whom the center is named.
The Leeds family donated $3 million toward the project, which drew more than 500 other gifts including $1 million from Bill Ackman and $1 million from the Kiam family. Tory Kiam, a childhood friend of Cary's, played against Cary and Larry in father-son tournaments with his father, Victor Kiam, of Remington shaver fame. "I remember how competitive he was," Tory Kiam said.
Fashion Legacy
Cary didn't get the tennis bug from his dad. "After he was 12 years old, he was too good for me," said Larry Leeds, whose own best sport has always been golf.
At the Fashion Institute of Technology gala on Monday, a son, Edwin Goodman, honored the retail legacy of his father and grandfather: the luxury department store they built named Bergdorf Goodman.
Goodman worked in the store at the start of his career, and with his father sold it. It's now a brand of the Neiman Marcus Group. So he more than most, he admitted, can appreciate that it's still in business, along with the other gala honoree, Saks Fifth Avenue, while other greats like B. Altman and Bonwit Teller are long gone.
While Goodman went into venture capital, co-founding Milestone Venture Partners, he also joined the board of FIT like his father. Things have changed at the school a bit: the graduating classes now include beauty entrepreneurs and tattoo artists.
Gala guests who raised scholarship funds included Lisa Perry, Liz Peek, Goodman's successor as chairman, and Barbara Tober.
Before it's here, it's on the Bloomberg Terminal.
LEARN MORE