Russia Strengthens Greece Ties With Gas Link Deal to Europe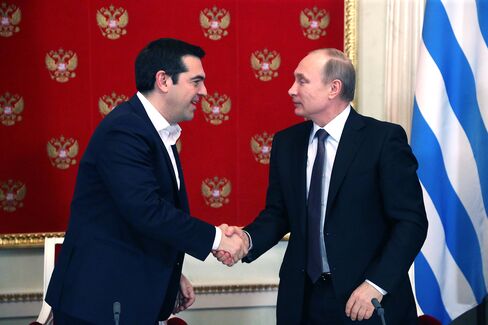 Russia signed a preliminary agreement on building a natural-gas pipeline through Greece, a deal that signals strengthening ties between the countries as the crisis-stricken government in Athens is increasingly isolated from the rest of Europe.
Russia's development bank, known as VEB, will own 50 percent of the 2 billion-euro link and provide all financing, Greek Energy Minister Panagiotis Lafazanis told reporters after the signing in St. Petersburg, Russia, on Friday. Greece will own the rest, Russian Energy Minister Alexander Novak said.
Russian President Vladimir Putin is luring Turkey and Greece with promises they'll become energy centers for southern Europe if the Black Sea pipeline is built. He's seeking a new route after the EU blocked the South Stream project. Russia dropped the $45 billion link in December as relations with the 28-nation bloc soured over the conflict in Ukraine.
"The pipeline is not against anyone in Europe or the world," Lafazanis said. "It is here to serve people, peace and stability. Energy can bring people together and not feed Cold War situations."
OAO Gazprom, Russia's natural gas exporter and the world's biggest producer, won't hold a stake in the section crossing Greece, Novak said. That section will have annual capacity of 47 billion cubic meters, with construction starting in 2016 and completion set for 2019, he said.
Pipeline Snarls
The European Commission has said the new pipeline may face the same issues that snared South Stream, such as ownership of a transport route by a gas exporter.
Read this next:
Gazprom, which plans to start laying the subsea link known as Turkish Stream this month, said in April its guarantee to deliver gas for the European market through Greece would help the country to get access to financing. Putin promised Greece that owning the new link, in partnership with Russia, would bring the debt-burdened economy "hundreds of millions of euros every year" for gas transit.
Under the accord signed Friday, Greece pledged to create "favorable conditions" for the link, Novak said.
Russia's government won't be involved in funding the Greek pipeline, Finance Minister Anton Siluanov said. VEB has a credit line of 300 billion rubles ($5.5 billion) that it can use for whatever projects it chooses, he said.
Gazprom has no binding agreements for the pipeline with Turkey, the first country on the route. Deputy Chief Executive Officer Alexander Medvedev said earlier this month Russia sees no risks as the southern neighbor is committed to the project.
The subsea section will be built using 30 percent cash and 70 percent project financing, Medvedev said Friday. The network will have capacity of as much as 63 billion cubic meters of gas a year with 75 percent going from Greece to the EU.
Gazprom and its main shareholder, the state, vow Russia will halt gas shipments across Ukraine to Europe when the current transit contract expires in the end of 2019. About 10 percent of EU gas needs now passes through Ukrainian pipelines.
Before it's here, it's on the Bloomberg Terminal.
LEARN MORE