Paris Smog Obscuring Eiffel Tower Threatens Diesel-Car Dominance
Famed Parisian landmarks such as the Eiffel Tower have been increasingly obscured in recent years by an oppressive smog. City officials have placed the blame chiefly on diesel exhaust, widening a Europewide attack on the fuel.
To make good on promises to clear the air, Mayor Anne Hidalgo convinced the city council earlier this year to ban diesel vehicles made before 2011 from the French capital's streets by the end of the decade. She hasn't ruled out barring diesel engines from the road entirely and backs electric and hybrid cars for the future.
"What's at stake here is the health of Parisians," said the mayor in e-mailed comments to Bloomberg. "I will never negotiate on their health."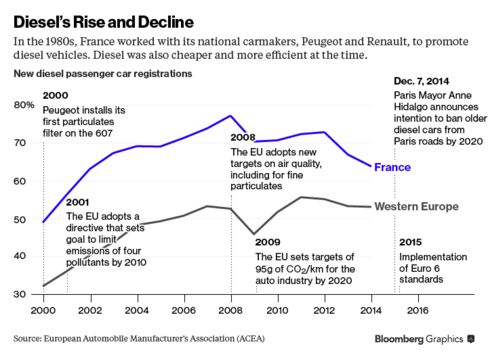 Paris's campaign isn't isolated and represents a harsh about-face for the region's automakers. London plans an ultra-low emissions zone, which will restrict older diesels, and the city's northern borough of Islington started charging diesel cars 96 pounds ($150) extra for a parking permit this month. Vienna, Berlin and Milan don't allow older diesel vehicles into the center of town.
Backed by decades of government incentives, diesels account for more than half of new car sales in Europe, even as it plays only a marginal role in other markets. That's allowed companies such as France's PSA Peugeot Citroen and Germany's Volkswagen AG to develop leading technology for the fuel-efficient alternative to gasoline. The current backlash threatens that edge and opens the doors to competitors.
Soot Filters
Diesel's problems stem largely from the nitrogen oxides and soot, or fine particulates, in the exhaust. The World Heath Organization's International Agency for Research on Cancer said in 2012 that diesel engine exhaust causes cancer. That year, outdoor air pollution probably accounted for 482,000 premature deaths, the WHO estimated in April.
In Paris, which will host the United Nations Climate Change conference later this year, road traffic is the main source of fine particulates, which can penetrate deeply into the lungs and play a role in asthma and other respiratory diseases, according to Airparif, a nonprofit organization that monitors air quality.
While new diesels sharply reduce nitrogen-oxide emissions and have filters for the soot, the concerns remain. Part of the heightened scrutiny includes plans by the European Commission to expand real-world tests to diesel cars from trucks.
Effective as early as 2017, the tests could add another hurdle for carmakers. Pollution scores when driving on hills and through stop-and-go traffic are sometimes much higher than lab results, according to a study last year by the International Council on Clean Transportation.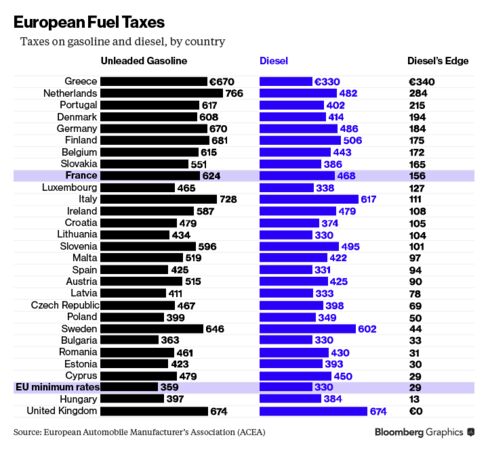 Environmental Must-Have
"If regulations get even tougher, some companies have said it will not be economical to sell any small-engine diesel cars in Europe," said Kristina Church, a London-based analyst at Barclays Plc. Peugeot and French counterpart Renault SA specialize in such vehicles and "would lose market share if they didn't sell them."
European automakers, which have invested heavily in the technology and rely on it to comply with environmental regulations, are firing back.
"The industry cannot reach the carbon-dioxide emission targets without diesel technology," which is about 20 percent more efficient than equivalent gasoline vehicles, Carlos Ghosn, chief executive officer of Renault and president of the European Automobile Manufacturers' Association, said at a press briefing earlier this month.
The U.K.'s Society of Motor Manufacturers and Traders launched a campaign in March to "put the record straight," including a "myth-busting" web guide.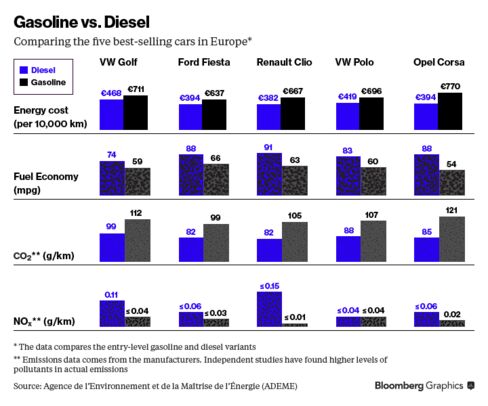 Ecological Diktat
Peugeot, which counts on diesels for about 68 percent of European sales, set up a French-language blog to counter critics. One post notes that the newest particulate filters prevent 99.9 percent of emissions.
Adding to the effort to clean up the fuel's exhaust, the latest European standards, which went into effect in September, cap nitrogen-oxide emissions at 80 milligrams per kilometer, a 56 percent cut from the previous generation.
Even so, public concern and falling government subsidies are starting to take a toll. In the first quarter, just 59 percent of newly-registered cars in France had diesel engines, down from 77 percent in 2008, according to the French carmakers' association CCFA.
But Paris's effort to get rid of older diesels does have its critics, including consumers like Maxime Lepissier. The 22-year-old soon won't be able to drive his Peugeot 505 into Paris after buying the 1989 turbo diesel eight months ago for about 1,900 euros ($2,140).
"It's like an ecological diktat," said Lepissier, who lives in Versailles and helps run an event agency. "How can young people afford the cleanest or newest cars? This is the kind of measure that punishes the poor and the young."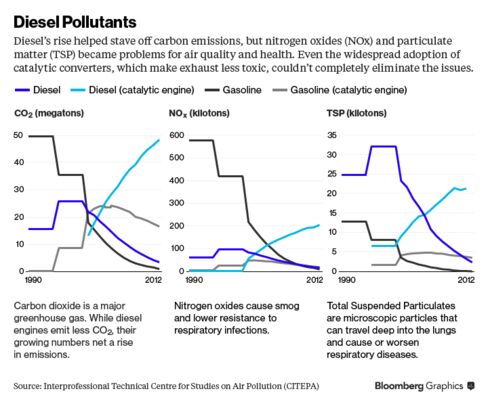 Before it's here, it's on the Bloomberg Terminal.
LEARN MORE