Listening for Gunfire at School to Stop the Shooter in His Tracks
Sensors in every classroom and hallway to detect the first gunshot and zero in on the shooter. What about kids' privacy?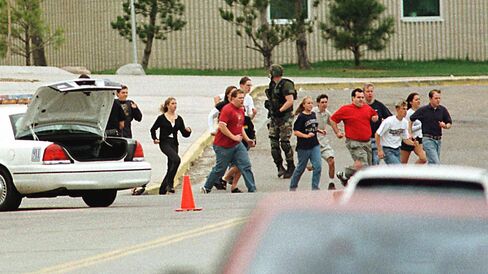 It took almost an hour to stop the mayhem at Columbine High when Dylan Klebold and Eric Harris shot 12 students and a teacher to death in 1999. The 2012 Sandy Hook Elementary School massacre in Newtown, Conn., lasted only five minutes but took 27 lives, a toll that might have doubled in the next five minutes.
Nowa Newark, Calif., company called SST, which makes the ShotSpotter technology used by police on city streets to quickly pinpoint the location of gunfire, is trying to move into schools with a product called SecureCampus. It deploys special audio surveillance equipment, which the Bay Area company calls sensors, in classrooms and hallways to stop a shooting from turning into a spree.
SecureCampus, which has been tested in a few schools, is being installed this week at Newark Memorial High School, outside San Francisco—coincidentally, the week of the Charleston, S.C., church murders, a very different situation but a painful reminder that guns in the U.S. are widespread, with killing sprees a grim staple of American life. Every classroom, hallway, and other public space on Newark Memorial's 25-building campus, which houses about 1,900 students in four grades, will be fitted with at least one gunshot detector to point law officers directly to the site of a shooter.
"It was, to me, the same as being asked if I wanted to install a fire alarm in the school," says David Marken, superintendent of the Newark Unified School District. "Of course I do."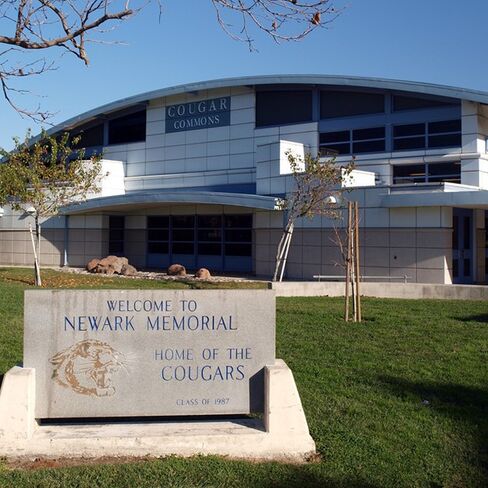 Marken says he hates to discuss it but has been thinking about a massacre—and how to prevent one—for years. What if a Columbine or Sandy Hook took place at one of the schools under his supervision? At Virginia Tech in 2007, Seung-Hui Cho murdered 32 people and wounded 17 others in an attack that unfolded over the course of two hours and 36 minutes. When the Newark Police Department and SST approached Marken in 2013 to discuss the system, he says, he was immediately interested.
The first shots of the Columbine attack, which left 24 people injured, were fired at 11:19 a.m. Police were notified just three minutes later but were powerless to bring the shooting to a swift end. A massacre in the school's library began at 11:29 a.m.and went on for seven minutes before the killers strolled into the cafeteria and fired shots at an improvised explosive they had planted there. It blew up at 11:46 a.m. A little after noon, they went back to the library and shot through the windows at police officers outside. It wasn't until 12:08 p.m.—49 minutes after the two had begun shooting—that they shouted "One! Two! Three!" in unison and killed themselves.
SecureCampus is designed to prevent such a protracted assault. When the sensors detect a sound that might be a gunshot, an SST team vets the sound, according to spokeswoman Liz Einbinder. If the team verifies it was a gunshot, it alerts the police, giving them the information they need to stop a shooting in a minute, she says.
Shooter Detection Systems, of Rowley, Mass., offers a similar service with no "false alerts," spokesman Christian Connors says, and therefore operates without the need for a vetting team. In a sign of the increasing competition in this grisly market, he adds: "We get it right the first time. No one else can say that."
Privacy advocates have said ShotSpotter may violate privacy laws when police put the recording devices in public places. SST says its sensors are designed not to record voices, but at least one voice recording was made last year by a ShotSpotter sensor in Oakland, Calif. It was used in court to identify a shooter.
"It's shocking to think that schools are now deploying this technology to peek on young teenagers," says Hanni Fakhoury, senior staff attorney at the Electronic Frontier Foundation, a San Francisco nonprofit that defends civil liberties in the digital world. "School violence is certainly a real problem, and I'm all for tackling it. But I hope [high schools are] thinking critically about privacy concerns before deploying this technology."
Cases like the one in Oakland are "very unusual" and "are not conversations," SST Chief Executive Officer Ralph Clark says. "These were people shouting just before and just after a felony is being committed. Those have happened in less than a handful of cases out of all the numbers of years we've been in business, and all the activations that we've supported," and are "very extreme, edge cases," he says. SST was founded in 1994.
The business of mass-shooting preparation is expanding. Video cameras have already been installed in many high schools. Beyond gunshot detection, Eagle View Technologies has a product called Critical360 that gives police a complete virtual-reality map of a school's classrooms and hallways. The maps show exits and where students might be able to hide from a shooter. Critical360 has been deployed in 64 schools in the U.S. and 31 in Canada, plus one college campus, a spokeswoman says. There are more comprehensive services. Companies like Crisis Management Solutions and the Foundation for School Safety and Security train school administrators in how to react if shooters appear.
These products aren't going to end school shootings. But they can help, Newark Memorial Principal Phil Morales says.
"If you don't have a plan in place, then SecureCampus is just going to be an alert. And then what do I do with it?" Morales says. "So it forces us to have a plan—to say, 'We have an alert. We know where the threat is. Now we need to act according to our plan.' Only then are we able to save lives."
Before it's here, it's on the Bloomberg Terminal.
LEARN MORE