Let's Pretend the Patriots Were Accused of Hacking: Sports Line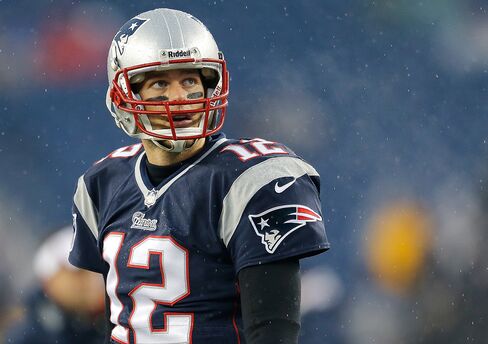 Tell us you didn't smirk when you heard the FBI is investigating whether the St. Louis Cardinals hacked the Houston Astros' computer network.
You probably enjoyed some delicious schadenfreude Tuesday over the nasty blot this leaves on the purported wholesomeness of the organization, texted a buddy with a joke about the Cardinals taking their hacks, then turned on the TV and watched LeBron James remind us he still isn't Michael Jordan.
Now consider your reaction if it were Bill Belichick and the New England Patriots hacking into another team's database.
Forget FIFA; this would be the real scandal. Get Interpol, the CIA, the Justice Department, Homeland Security and the Avengers on the case. This is serious, this is (cue voice of John Facenda) the National. Football. League.
Baseball fans, of which Sports Line is one, tend to look at this kind of cheating with a ballplayers-will-be-ballplayers attitude. We chuckle at pitchers who get nabbed carving up a baseball with a piece of sandpaper or a bullpen coach stealing signs. If a baseball equivalent of the flat-football affair happened during a league championship series, we'd roll our eyes and move on.
With football, fans (Sports Line raises his hand here, too) take such nefariousness much more seriously. The Patriots' underinflated footballs did more than make the pond ripple. It created a wave in the national consciousness, washing over everything from non-ESPN newscasts to Facebook statuses of people who usually just post recipes for Crockpot pork chops.
The American Enterprise Institute took it upon itself to release a 16-page study challenging the methodology behind the NFL's findings.
Are football fans that much more sanctimonious than baseball fans? Nah. Sports Line just thinks baseball has a long tradition of it-ain't-cheating-if-you-don't-get-caught. Gaylord Perry got into the Hall of Fame throwing spitballs.
Football, with its military overtones, embraces rules. Great claps of thunder herald the woe and torment that befall those who don't fall in line. Tom Brady was suspended a quarter of next season for his role in the underinflated football imbroglio, and the Patriots were fined $1 million while losing a first-round draft pick.
Meanwhile, Milwaukee Brewers relief pitcher Will Smith was suspended eight games in May for having a prohibited gob of goo on his arm during a game. That's about 5 percent of the season.
This time, though, there is a difference. Unlike letting an unauthorized squirt of air out of a football before a game or doctoring a baseball, hacking is a real crime investigated by real police who could be focusing on more serious misdeeds.
So, this time, we shouldn't be rolling our eyes.
***
The two weeks of torture for Knicks fans known as the NBA Finals is mercifully over, ending a six-game series that featured lots of could-have-beens for New York supporters.
Golden State was coached to the title by Steve Kerr, who turned down mentor Phil Jackson and the Knicks last May before taking his first NBA coaching job with the Warriors.
And one of the players getting a ring was David Lee, who played five seasons in New York before being traded to Golden State for -- drum roll, please -- Kelenna Azubuike, Anthony Randolph, Ronny Turiaf and draft picks that turned into Quincy Miller and Romero Osby.
Three of the Cavaliers' top six players -- Iman Shumpert, Timofey Mozgov and J.R. Smith -- were traded away by New York. And, of course, the Knicks spent two years clearing salary space in a futile effort to woo LeBron James when he was a free agent in 2010.
The silver lining? Only six days to the NBA draft, where the Knicks' franchise-worst 17-65 record this season earned them the fourth pick.
***
Ah, the summer sounds of New York's Central Park -- Shakespeare at the Delacorte Theater, organ music on the carousel. And, this Saturday only, chainsaws and axes slicing through white pine logs in the shadow of the Naumburg Bandshell.
The 30th edition of the Stihl Timbersports national championships is coming to the heart of urban life, featuring more than two dozen lumberjacks from across the country in what is called the "original extreme sport." Admission is free.
Arden Cogar Jr., a West Virginia attorney and a four-time national champion lumberjack, said he has done demonstrations in Central Park but never a competition. Cutting logs in New York is a "different" experience, he told Sports Line.
"The majority of the people in attendance had no clue what we were doing," he said of his demos. "When you think of going to the city, you'd think the last thing they'd want to do is be outdoors."
Cogar, 45, a partner at MacCorkle Lavender PLLC of Charleston, is a trial attorney in civil cases whose clients usually are associated with the timber industry. His father, who gave woodchopping demonstrations at the 1964 World's Fair in New York, and grandfather were loggers.
The former prosecutor said in a phone interview that preparing for a trial takes the same focus as the chopping, cutting and sawing he'll be doing tomorrow.
"Woodchopping is my passion, whereas the practice of law is my profession," Cogar said. "Timbersports gives me the ability to maintain my sanity in order to practice law effectively."
***
This year's U.S. Open will have a $10 million prize purse, the biggest in the golf major's 115-year history.
The increased payout matches the amount offered at the Players Championship and Masters Tournament, and follows the U.S. Golf Association's signing of a 12-year, $1.2 billion television contract with Fox Sports.
Fox plans to put that new TV contract to good use this weekend at Chambers Bay Golf Course outside Seattle, saying it won't shy away from trying the occasional non-traditional approach.
"What a boring world it would be if changing things up was so frowned upon that they were scared to do it," Fox's Joe Buck said in a conference call. "In 1994, everyone freaked out about Fox putting the score in the corner of the screen. If we are going to go into this event worrying what the traditional golf fan thinks, we're dead. Fresh eyes, a fresh perspective, a little energy and looking at the same format for a different angle are good things."
***
- San Francisco Giants rookie Chris Heston's no-hitter last week at the New York Mets was the 25th in Major League Baseball since the start of the 2010 season. It had taken the previous 15 seasons for pitchers to throw that many no-hitters.
- Ballboy tryouts for the U.S. Open tennis tournament are set for June 25 at the National Tennis Center in Flushing, New York. About 80 positions are available, and about 350 people -- age 14 and older -- are expected to show off their running, throwing and catching skills.
- Cowabunga Dude! Don't forget, Saturday is International Surfing Day.
Before it's here, it's on the Bloomberg Terminal.
LEARN MORE