Jimmy Lee, Kirk Kerkorian, Ralph Roberts: Obituaries This Week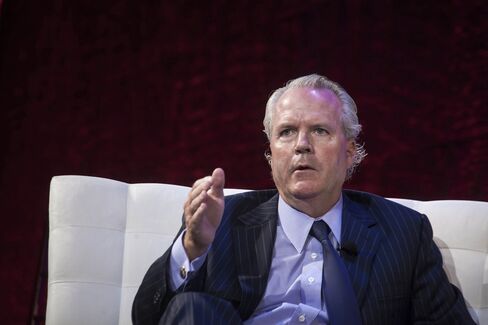 This week's notable deaths included the vice chairman and master dealmaker at JPMorgan Chase & Co., the billionaire investor who helped shape Las Vegas, and the founder of the largest U.S. cable-TV operator. Below are summaries of these and other obituaries.
James "Jimmy" Lee, 62. Helped create the modern private-equity industry by pioneering the use of leveraged loans to fund takeovers. He worked at JPMorgan and its predecessors since the mid-1970s, eventually running its investment bank. Died June 17 after experiencing shortness of breath while on a treadmill at his home in Darien, Connecticut. He was taken to a hospital, where he died.
Kirk Kerkorian, 98. An eighth-grade dropout who amassed a net worth of $3.6 billion by investing in Nevada casinos, Hollywood studios, carmakers and airlines. One of his companies, MGM Resorts International, acquired so many competitors that once he controlled more than half the hotel rooms on the Las Vegas strip. He became a Hollywood mogul after gaining control of Metro-Goldwyn-Mayer Inc. Died June 15 in Los Angeles.
Ralph Roberts, 95. He guided the expansion of Philadelphia-based Comcast Corp. through acquisitions: the purchase of AT&T Broadband in 2002 for $58.7 billion and NBC Universal, through two deals with General Electric Co., for about $30.5 billion in cash and assets. Served as chairman for 18 years until 2002, when his son, Brian Roberts, became chief executive officer and chairman. Died June 18 in Philadelphia of natural causes.
Nelson Doubleday Jr., 81. Co-owner of the New York Mets baseball team from 1986 to 2002, when he sold his stake to partner Fred Wilpon for $131 million, ending their tempestuous relationship. Doubleday held a stake in the National Hockey League's New York Islanders prior to buying the Mets. As CEO of book publisher Doubleday & Co., which was co-founded in 1897 by his grandfather Frank Doubleday, he sold the company to Bertelsmann AG in 1986. Died on June 17 at his home in Locust Valley, New York. The cause was pneumonia.
Philip Skidmore, 75. While chairman of Belpointe Asset Management, assets under management rose to $250 million from $6 million. He previously helped expand the capital-markets unit of Lehman Brothers Holdings Inc. in the 1970s and spent eight years at Kuhn, Loeb & Co. From 1986 to 2005, he worked at Advest, a broker-dealer based in Hartford, Connecticut, leading its investment banking unit. Died June 13 at his home in Stamford, Connecticut. The cause was a stroke.
Susan Hirt Hagen, 79. Billionaire heiress whose father was Henry Orth Hirt, founder of auto insurer Erie Indemnity Co., based in Erie, Pennsylvania. A board member and the company's largest individual shareholder, she had a net worth of $1.9 billion. Died June 15.
Suleyman Demirel, 90. President of Turkey from 1993 to 2000, who also served as prime minister seven times from 1965 to 1980. He emphasized infrastructure such as dams and construction projects to urbanize the nation and transform its economy. Died June 17 at Guven hospital in Ankara, Turkey. The cause was heart failure and a respiratory tract infection.
Before it's here, it's on the Bloomberg Terminal.
LEARN MORE