Fernandez Meddles at Scioli's Peril in Argentine Election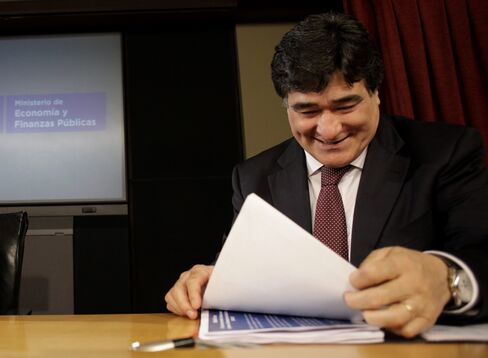 Argentine President Cristina Fernandez de Kirchner won a victory Wednesday when she helped persuade the ruling party's presidential candidate to name one of her allies as his running mate. The victory may prove ephemeral, some analysts say.
Daniel Scioli's decision to name Legal Secretary Carlos Zannini as his vice presidential candidate for October's election, following consultations with Fernandez, helped the governing alliance unify behind him. But, it also means he will be associated with a president who oversaw a default, currency controls and was accused by the International Monetary Fund of undercounting inflation.
"They've opened up a flank through which they can be attacked," Raul Aragon, director of polling firm Raul Aragon & Asociados Aragon, said by telephone from Buenos Aires. "The opposition is going to work at making people know who Zannini is and that he represents a pure version of Kirchnerism."
A contest that was shaping up to be between proponents of rapid change and Scioli's "gradualism" just got even simpler, says the leading opposition candidate, Mauricio Macri. After more than a decade in power for Fernandez and her husband and predecessor Nestor Kirchner, Scioli will now be associated with the status quo in a country where the economy has stagnated and prices are rising 25 percent a year.
Risky Business
Scioli is "the most loyal and consistent governor, who's been beside the Kirchners for 12 years," while Zannini "represents the idea of continuity," Macri said in comments on Radio 10 Wednesday. "There are more people that want change than continuity, so I have more chances of winning in a runoff."
Scioli, a 58-year-old former world speedboat champion who was vice president under Nestor Kirchner, had indicated that he would gradually roll back some of the economic policies imposed by the Kirchners. He had even found himself the target of their ire after publicly disagreeing with them.
That has now changed, said Steven Levitsky, a professor of government at Harvard University.
"It's risky for Scioli because if the economy begins to worsen, he's no longer an independent candidate -- he's the government's candidate," Levitsky said by phone from Cambridge, Massachusetts. "Until now he's been able to maintain a certain ambiguity and independence" from Fernandez.
Kirchner Dynasty
Zannini's nomination triggered a drop in Argentine bonds and the local currency. In the past week, the black market peso has tumbled 2.9 percent to 13.08 pesos per dollar, it's weakest since February, while the Bonar 2024 bonds sank on Wednesday to their lowest level in six months.
Markets may get another shock Saturday, when Scioli presents ruling party candidates for governors and lawmakers. The list may include Fernandez and her son, Maximo, who founded La Campora, the radical youth movement that seeks to defend Kirchnerism policies.
Macri needs a boost in the polls. The man who has vowed to end import restrictions and export tariffs and dismantle currency and price controls imposed by Fernandez is trailing Scioli in opinion polls as the Buenos Aires governor has promised to chip away at Fernandez's policies.
Scioli has 34 percent support against 27 percent for Macri in a Poliarquia poll of 1,000 people carried out in the first two weeks of May. Sergio Massa, a former cabinet chief under Fernandez who broke away to form a dissident Peronist alliance had 19 percent in the survey, which had a margin of error of 3.2 percentage points.
Running Mate
Macri on Friday named Senator Gabriela Michetti from his PRO party as his running mate. Michetti, who lost a primary to Horacio Rodriguez Larreta to win the nomination to run for mayor of Buenos Aires, previously served as Macri's deputy mayor of the Argentine capital.
While Fernandez has historically commanded support from about 30 percent of Argentines, Scioli has a further 5 percent to 6 percent that are his own votes, said Aragon. That part of his support may be driven away by his improved relations with Fernandez and will probably migrate toward a third candidate, Sergio Massa, Aragon said.
No Albatross
The economy may come to Scioli's rescue.
Fernandez has managed to stabilize an economy that looked to be on the brink of crisis last year after Argentina defaulted on its foreign debt for the second time in 13 years. Inflation has slowed, while reserves have risen 26 percent to $33.8 billion after falling to a seven-year low last year.
Fernandez this week also raised social security payments to the unemployed and those who earn less than the minimum wage by 30 percent.
Macri will need to do more than drive home the idea that Scioli represents the perpetuity of Fernandez's economic model, said Pepe Nun, a political analyst and former culture secretary under Fernandez. He'll need to unite the opposition against Scioli and Fernandez through an alliance with Massa, something he has rejected until now.
Macri on Friday indicated he won't ally himself with Massa, saying that the country needs "new people" to run the country after 25 years of government by Peronists.
"This is an opportunity the opposition should seize," Nun said. Without an alliance, "the opportunity will be lost.´´
Before it's here, it's on the Bloomberg Terminal.
LEARN MORE