Brazil Star Neymar Could Be Out of Copa America Tourney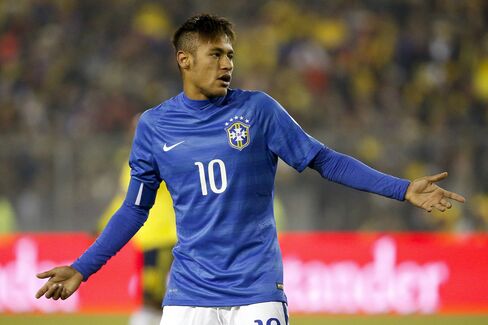 Brazilian forward Neymar could be out of soccer's Copa America tournament after receiving a four-game ban Friday in a disciplinary hearing.
Neymar was sent off for an attempted head butt during Wednesday's 1-0 defeat by Colombia at the tournament in Chile. Colombia's Carlos Bacca was given a two-game ban after also receiving a red card for clashing with Neymar.
Brazil will appeal the decision, coach Dunga said Saturday at a news conference. If the appeal doesn't succeed, the competition would be deprived of one of soccer's biggest stars, since Brazil can play a maximum of four more games in the 12-nation event, starting with Sunday's final group game with Venezuela.
All four teams in Brazil's pool have three points, meaning a defeat could send the five-time World Cup winner home before knockout play for the first time in competition history.
Neymar is Brazil's standout performer. The team suffered a record 7-1 defeat to Germany in the semifinals of the 2014 World Cup when the Barcelona forward was ruled out of the tournament after damaging his back one game earlier.
Dunga suggested Neymar's sanction was more punitive because of the player's high profile in world soccer. Neymar was part of the Barcelona team that won the Spanish league and cup titles before securing the Champions League.
"We don't want anything in favor or against, just what's fair," Dunga said.
Neymar would have missed the Venezuela game even without the red card, because he collected a second yellow card during the game with Colombia. His replacement probably will be Liverpool's attacking midfielder, Philippe Coutinho.
"Neymar is a great player, our main man, but everyone is prepared and focused on what we want," Coutinho said at a news conference before the ban was announced. "We lost our main player, but the group is strong. We are focused to overcome the loss of Neymar in the next game."
Brazil had won 11 straight games after its World Cup humiliation, which included a 3-0 defeat to the Netherlands in a playoff for third place. That run ended with the defeat to Colombia.
Brazil has won the 99-year-old Copa America, soccer's oldest regional competition, eight times.
Before it's here, it's on the Bloomberg Terminal.
LEARN MORE