Alex Rodriguez Home Run Makes Him 29th in MLB With 3,000 Hits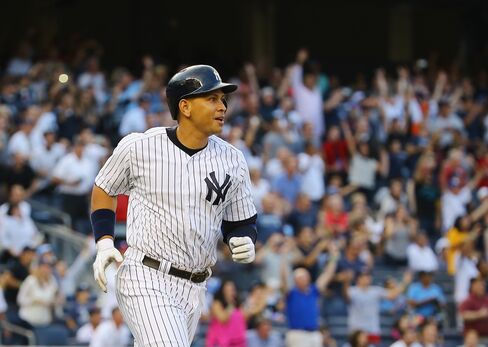 Alex Rodriguez became the 29th member of Major League Baseball's 3,000-hit club, reaching the milestone with a first-inning home run Friday night as the host New York Yankees won 7-2 against the Detroit Tigers.
With his 667th career homer, the 39-year-old Rodriguez joined Hank Aaron and Willie Mays as baseball's only players with 3,000 hits and 600 home runs.
The achievement came after Rodriguez, a three-time league Most Valuable Player, missed the entire 2014 season due to a performance-enhancing drug suspension.
Having signed a $275 million, 10-year contract extension with the Yankees in December 2007, the team's plans to celebrate Rodriguez's late-career achievements crumbled after he was banned in August 2013, when then-Commissioner Bud Selig said Rodriguez used testosterone and human growth hormone over multiple years.
Rodriguez initially denied the allegations before saying that he took full responsibility in February.
Though Rodriguez's contract extension included $6 million home-run incentives for matching Mays (660), Babe Ruth (714) and Aaron (755), and another $6 million each for tying and passing Barry Bonds's record of 762 homers, the Yankees said in May after he tied Mays that they won't pay.
Yankees General Manager Brian Cashman said at the time that it was the team's "right, but not the obligation" to compensate Rodriguez, who declined to address the topic publicly.
Rodriguez on June 13 became the fourth major leaguer to pass 2,000 runs batted in. Aaron is the career leader with 2,297.
Former Yankees teammate Derek Jeter, who retired last season with 3,465 hits -- sixth on the career list -- had been the most recent major leaguer to pass the 3,000 mark. Pete Rose, who is banned from the game for betting on baseball, holds the major league record of 4,256.
Jeter had five hits on July 9, 2011, including a solo homer for No. 3,000, becoming the only previous player to accomplish the feat as a Yankee. Former Yankees Dave Winfield, Rickey Henderson and Wade Boggs topped 3,000 with other clubs.
Of the previous 28 players with 3,000 hits, 24 are in the Hall of Fame. Craig Biggio, who retired in 2007 with 3,060 hits, will be inducted into the Cooperstown, New York, museum in July. Rose isn't eligible because of his ban and Jeter won't be eligible until 2020.
Rodriguez may face a fate similar to that of Rafael Palmeiro, who had 3,020 hits and 569 homers but was snubbed by baseball's writers for Hall of Fame inclusion because of a drug suspension. Needing 5 percent of the vote to remain on the ballot and 75 percent for induction, Palmeiro received 4.4 percent in 2014, his fourth year of eligibility.
Before it's here, it's on the Bloomberg Terminal.
LEARN MORE