U.K. Officials Said to Favor October 2016 EU Referendum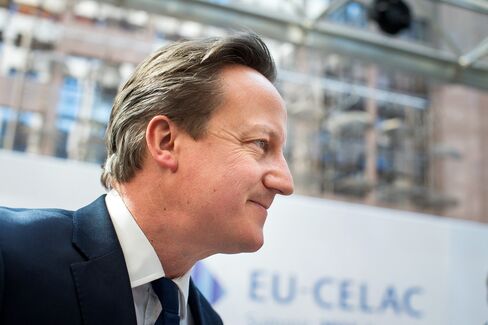 Britain is leaning toward holding its referendum on European Union membership in the fall of 2016, according to two people familiar with the U.K.'s deliberations.
Even before Prime Minister David Cameron's government this week publicly ruled out a May 2016 vote, finance-industry representatives and government counterparts in other countries were told by U.K. officials that ministers were aiming for a ballot after the summer next year, the people said.
October 2016 is the preferred date, according to one of the people, who cited the aim of allowing more time for Cameron to push for concessions from other EU nations. Both people asked not to be named because the planning is private.
"The timing of the referendum will be led by the timing of the renegotiation," Cameron's spokeswoman, Helen Bower, said by phone. "The prime minister has said we would hold the referendum by end-2017. If it can be done earlier, he is open to that."
Business leaders have pressed for a referendum to be held before the 2017 deadline to put an end to uncertainty they say could discourage foreign investment. Bringing it forward is also favored by other EU member states, since a vote in 2017 would coincide with French and German elections.
Foreign Secretary Philip Hammond late on Monday tabled a seven-word amendment to the EU Referendum Bill, saying the vote can't be held May 5, the same day as U.K. regional elections. The move was seen in the British media as a climbdown by Cameron in the face of protests from Tories who want Britain to leave the EU. Holding the two votes together could have led to a higher turnout in areas where people are more likely to support EU membership.
Avoiding Rebellion
"It's a good compromise," Wyn Grant, professor of politics at Warwick University, said when asked about an autumn 2016 referendum. "It's a way for Cameron to try and conciliate the euro-skeptics in his party as far as he can and avoid a big rebellion. Dropping May, which was too soon to complete negotiations anyway, is a good way to do that."
While polls suggest a majority of Britons want the U.K. to stay in the 28-nation bloc, the issue has divided the Conservative Party for decades and is likely to stir up trouble in Cameron's government, which has a majority of only 16 in Parliament.
An October 2016 ballot would also allow Cameron to set out the result of his negotiations and the case for staying in the EU at his party convention, held at the beginning of that month.
Conference Platform
"There is bound to be opposition by hardline euro-skeptics but then nothing would wash with them, short of an exit," said Grant. "Conservative conference is the ideal place to convince people to back him, while giving a platform to the dissenters. Holding the vote soon after would therefore be a good idea."
Cameron originally offered the referendum in early 2013 to stop Conservatives leaving for the U.K. Independence Party, which wants Britain out of the EU and curbs on immigration. The prime minister, who says the best outcome would be Britain remaining in a reformed EU, angered some euroskeptics by signaling he would expect members of his government to campaign alongside him. He later backed down, saying his remarks had been misunderstood.
For more, read this QuickTake: Will Britain Leave the EU?
Cameron has been meeting fellow EU leaders since his Conservative Party won re-election in May. German Chancellor Angela Merkel, the woman whose support he needs most, has advocated a "serious and conscientious" debate about Britain's demands while saying that any overhaul can only go so far.
Before it's here, it's on the Bloomberg Terminal.
LEARN MORE