U.K. Lawmakers' $9 Billion Question Over Palace of Westminster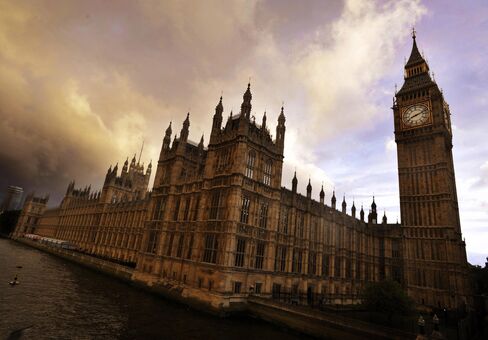 Work to restore the Palace of Westminster, home to the House of Commons and House of Lords, may take as long as 40 years and cost 5.7 billion pounds ($9 billion) if U.K. lawmakers are unwilling to move out, a report said.
The network of buildings in central London were built in the mid 19th century and many features have never been renovated, according to an appraisal of options led by Deloitte Real Estate published Thursday. The work, including extra upgrades for facilities, could be done in six years for 3.9 billion pounds if Parliament moves to a temporary building.
"Our analysis indicates that the restoration and renewal of the U.K.'s most famous building will be a challenging and potentially expensive exercise," Alex Bell of Deloitte said in a statement. "Members and peers face unenviable decisions, although recent mega-project success stories such as the Olympics and Crossrail demonstrate the U.K.'s capability to deliver such projects successfully."
The options, which include a rolling program of works for 32 years, a stage-by-stage upgrade over 11 years and a full move-out for six years, will now be considered by a panel of lawmakers with a decision due in 2016. The upper estimate for the cost of the work if lawmakers stay in the buildings is 7.1 billion pounds, the report said.
The estimates are based on work starting in 2020, the report said, and would deal with the palace's "antiquated heating, ventilation, water, drainage and electrical systems" alongside work to remedy "extensive stonework decay, leaking roofs, corrosion and the need to improve fire containment."
No Time
There would also be the opportunity to install purpose-designed education, media and visitor centers in the building, which is still a royal palace.
"It's one of the world's greatest buildings in its own right, but at the same time it's home to one of the world's busiest parliaments," Program Director Richard Ware told reporters on Thursday. "There has been almost no time for major refurbishment since 1950."
No buildings have been identified as alternative homes for Parliament and the almost 4,000 people who work in the palace, Ware said. Modeling of costs was based on properties in the Westminster area and the floor space needed would be approximately equivalent to the 1.1 million square feet at the HSBC tower in Canary Wharf, he said.
Read this next:
Before it's here, it's on the Bloomberg Terminal.
LEARN MORE