Social media magnate Mark Zuckerberg started Facebook in his Harvard University dorm room, and the next big thing could well have been started not far away.
The number of businesses in Massachusetts surged 5.6 percent in the fourth quarter from a year earlier, leading all U.S. states, according to data released this week by the U.S. Bureau of Labor Statistics. While California, home of Silicon Valley—and Facebook's headquarters now—has more enterprises than any other locale, the biggest growth came in the Bay state, followed by Illinois, Oregon, Delaware, and Georgia.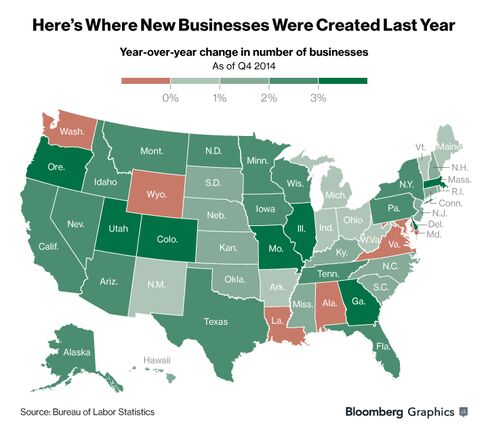 Massachusetts's performance isn't a big surprise, because it's been a leader in technology and work-force education. It's home to Harvard and the Massachusetts Institute of Technology, among other top schools.
Education seems to be a common thread among the top states, says Robert Atkinson, president of Washington's Information Technology & Innovation Foundation, a research group that promotes innovation.
"One factor is that their university systems are all above average," Atkinson says. Massachusetts was ranked first by the group last year among states poised to benefit from technology innovation.
"Massachusetts has four key elements for high-growth startup success: venture capital, great research universities, a high concentration of college-educated workers, and an existing base of tech-based companies in a variety of sectors," he says. "This ecosystem is to some extent self-reinforcing."
Entrepreneurs tend to locate next to one another, which is one reason why you get so many startups in Silicon Valley—and now the Boston area, too.
The density of young companies and population diversity, including an area's ability to attract immigrants, are among the factors that cause some metropolitan areas and states to stand out, says Arnobio Morelix, a research analyst who studies startups at the Kauffman Foundation in Kansas City, Mo.
Yet the reasons for success sometimes aren't simple, he adds.
"Places with high startup activities tend to be attractive for reasons beyond just the economy," Morelix says. "They are places where people want to live and people want to move."
For more on the global economy, check out Benchmark:
Before it's here, it's on the Bloomberg Terminal.
LEARN MORE