Swiss timepiece exports had their biggest monthly drop in more than five years as the strong franc and the introduction of the Apple Watch weighed on deliveries.
Shipments slid 8.9 percent to 1.71 billion francs ($1.9 billion) in May, the Federation of the Swiss Watch Industry said on its website Thursday. That's the steepest percentage decline since November 2009 and means exports in the first five months of the year fell 0.3 percent.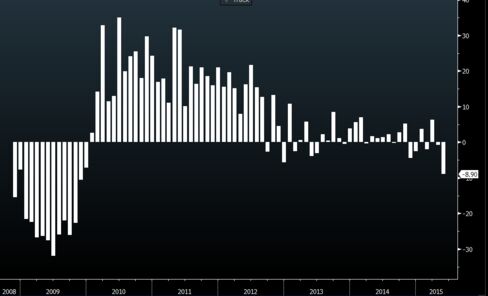 Swiss watchmakers are struggling to adjust prices worldwide as the franc has surged to record levels against the euro this year. The advent of Apple Inc.'s wrist gadget is compounding the industry's difficulties, and the device is due to arrive in store shelves in more countries, including Switzerland, next week. That may lead retailers to reduce orders of Swiss watches on concern of rising competition.
"Watch exports to the U.S. in the lower price segments could also have had some negative impact from the launch of the Apple Watch," Patrik Schwendimann, an analyst at Zuercher Kantonalbank in Zurich, said by e-mail. The U.S. market might only grow by a low single-digit percentage this year, slowing down from 6 percent growth in 2014, he said.
The decline in watch shipments was 14 percent in that market and 34 percent in Hong Kong, where Chinese consumers frequently buy timepieces to take advantage of lower taxes. The month of May also had two fewer working days than the previous year.
The strong dollar and the weak euro is leading more Asian tourists to Europe rather than the U.S. as their spending money can go further there. That could also explain the drop in shipments to the U.S., according to Deborah Aitken, a Bloomberg Intelligence analyst.
Cie. Financiere Richemont SA, the owner of the Cartier brand, has lowered prices in Hong Kong and the U.S. dollar zone, while LVMH Moet Hennessy Louis Vuitton SE's TAG Heuer brand cut prices in Hong Kong by 13 percent on average in March.
Richemont shares declined 0.6 percent and Swatch Group AG dropped 0.8 percent as of the close of trading Thursday in Zurich. LVMH rose 0.4 percent in Paris.
Before it's here, it's on the Bloomberg Terminal.
LEARN MORE