Samsung Shaking Investor Faith in Korea, Lawmaker Says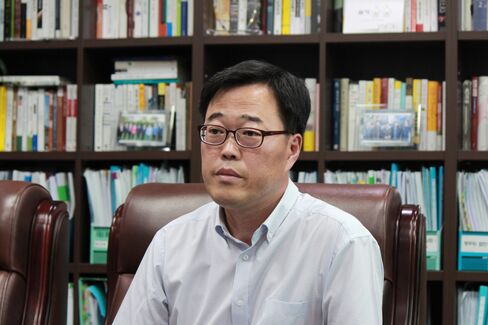 Samsung Group's fight with an activist fund to push through a merger of two units is threatening to erode investor confidence in South Korea, a domestic lawmaker said.
In the face of opposition from Elliott Associates LP, Samsung should have worked harder to convince other investors that the proposed combination makes sense, Kim Ki Sik, an activist-turned-legislator, said in a Thursday interview in Seoul. Now, the deal is rekindling concerns that the families running the nation's biggest conglomerates -- known locally as chaebol -- are advancing their agendas at the expense of minority investors, he said.
"Samsung's reaction so far has been disheartening in that it doesn't seem to have put in much effort to convince its shareholders of the validity of the merger," said Kim, who sits on the parliamentary committee that oversees the financial regulator. "By pursuing a merger ratio that is deemed irrational by the market, there will be an understanding that while Samsung's majority shareholders gain, other shareholders suffer losses."
The comments help illustrate how the proposed purchase of Samsung C&T Corp. by another group affiliate is turning into a broader debate about the country's corporate governance. The dispute -- Elliott argues the offer is too low -- is also important as it pits a famed U.S. activist fund against Korea's biggest conglomerate at a time the founding family is preparing for a generational leadership transition.
"If Samsung gets away with everything it wanted despite Elliott's efforts, foreign investors will be disappointed and could decide to leave Korea," said Chae Yi Bai, analyst at Center for Good Corporate Governance. "The bigger worry is that this isn't the last merger anticipated at Korean chaebols, which means that the issue will continue to prevail."
Discounted Buying
Samsung Group declined to comment on Kim's statements. Samsung C&T, which has repeatedly said the merger is in the best interest of its stockholders, said in an e-mail it will actively meet with investors to explain that the merger will maximize the company's shareholder value.
The all-stock buyout offer from Samsung's de facto holding company, Cheil Industries Inc., has been valued below C&T's share price ever since it made the proposal in late May, according to data compiled by Bloomberg. The deal is subject to shareholders' approval on July 17.
Still, Samsung was restricted from making a higher offer when it did because of Korean rules requiring such deals to be made based on a pre-determined formula that averages prices over the preceding month. The regulation is designed to protect minority shareholders by preventing family-run groups from bailing out affiliates through exorbitantly high offers.
"There should be a review to see if regulatory changes can be made to supplement the gap between reality and the law," the 49-year-old lawmaker said, though he stopped short of saying that the law needs to change.
Controversial Sale
The fund headed by billionaire Paul Elliott Singer argues that these rules don't excuse C&T's board from accepting a low offer. How low? C&T owns more than $10.6 billion of shares in Samsung units, or more than 20 percent above what Cheil is offering to buy the entire company, which is also one of the nation's biggest construction companies.
Adding to the controversy, C&T last week sold a 5.8 percent stake in itself to Samsung ally KCC Corp. as companies cannot vote for themselves. The transaction prompted APG Groep NV, manager of the world's second-largest pension fund, to cry foul.
As part of its campaign, Elliott has taken Samsung and KCC to court to block the merger and KCC's ability to vote with those shares. Both sides made their case Friday in a packed courtroom in Seoul, with the Samsung and KCC camp being represented by about a dozen lawyers, outnumbering Elliott's four. The court will give a ruling by July 1 and asked all parties to submit any additional documents by June 25.
Kim, who helped found Seoul-based activist group People's Solidarity for Participatory Democracy, said Samsung's use of such tactics could backfire.
"Making use of treasury shares to defend itself isn't wise," he said. "My biggest concern is that this won't be the last time such issues are raised, as more mergers are bound to take place in chaebol groups, including Samsung, as they go through succession."
Before it's here, it's on the Bloomberg Terminal.
LEARN MORE