Russian Economic Path Is in Eye of Beholder for Putin Allies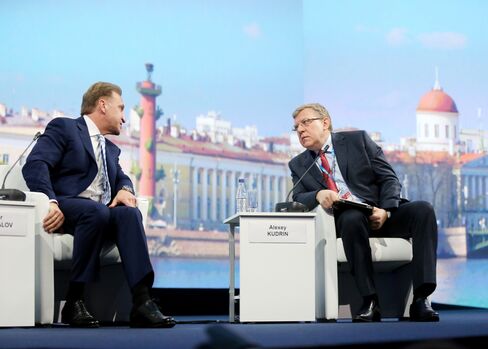 The Russian economy is sailing along -- in the eye of the storm or toward calmer waters, depending on who's looking.
Gauging the health of the economy during the first two days of the St. Petersburg International Economic Forum were President Vladimir Putin's confidantes, past and present. Things looked worse off on the outside looking in.
"Everything has gone far better" than forecast in the fall, Igor Shuvalov, first deputy prime minister whose remit stretches from financial policy to sports, said Thursday.
Not so, countered Alexei Kudrin, who was finance minister for more than a decade and has worked with the president since the 1990s. "We are now in the eye of the storm," Kudrin said.
Putin himself will weigh in on Friday, delivering a keynote address to the showcase event in his hometown. His message to investors will fall short of delivering major initiatives to pull Russia out of recession, curtail corruption or strengthen property rights, according to four people familiar with the matter.
Stabilizing oil prices and a letup in the currency crisis that ravaged the economy last year are testing the authorities' resolve after they snapped into action with spending cutbacks and an emergency increase in borrowing costs to douse panic. With policy in flux, the clashing assessments underscore the challenge for Putin of managing the economy still besieged by sanctions enacted over the conflict in Ukraine.
Market Confidence
As the broader economy staggers through its first recession in six years, Russian assets are brimming with confidence. The ruble is the world's best performer globally against the dollar this year with a 13 percent gain after losing almost half of its value in 2014. The benchmark Micex stock index is up 19 percent this year. The yield on five-year government bonds ticked up one basis point to 11.17 percent on Friday, compared with this year's high of 17.64 percent in January.
Economic data released this week paint a bleaker picture. Industrial production dropped more than forecast by analysts, sliding for a fourth month in the longest slump since 2009. A crash in real wages and retail sales is putting Russia on track for the biggest drop in consumption in more than two decades, according to Otkritie Capital.
'Grim Reading'
The figures for May "made for grim reading," William Jackson, an analyst at Capital Economics Ltd. in London, said in a report on Thursday. The "data provide further evidence that Russia's economic downturn deepened in the second quarter."
That view was echoed by Daniel Hewitt, a London-based economist at Barclays Plc, who said "second-quarter real sector indicators confirm that the recession is intensifying."
As the debate continued Friday morning, Kudrin again said at a breakfast meeting with Economy Minister Alexei Ulyukayev, Finance Minister Anton Siluanov and OAO Sberbank Chief Executive Officer Herman Gref that Russia is in the full-fledged crisis. He warned that companies may step up job cuts after having coped by reducing salaries and hours in hope they can "wait through." Unemployment dropped to 5.6 percent in May from 5.8 percent in April.
'Less Negative'
Government officials in St. Petersburg found more to cheer about. Deputy Finance Minister Maxim Oreshkin said that on a quarterly basis the April-June period will show a "less negative" performance than in the prior three months.
Gross domestic product contracted 2.2 percent in the first quarter from a year earlier, the first drop since 2009 and down from a previous estimate for a 1.9 percent decline. The economy may shrink for two years in a row for the first time under Putin if oil stays at $60 through 2016, according to the central bank.
"We believe there won't be a second year of recession," Oreshkin said in an interview Thursday. On a monthly basis, "June data may already bring about something positive."
Ulyukayev was also more upbeat. He said at the Friday breakfast meeting that it was a "matter of definition" whether Russia is in crisis and predicted recession may last three quarters and "starting from the fourth quarter, we expect the beginning of restorative growth."
Sanction Threat
If Kudrin sees little relief in sight, that's because the uncertainty roiling the economy exposes "challenges that are political, non-economic in character," he said. For example, another wave of sanctions that restrict trade or the movement of capital can set Russia back, according to Kudrin.
"That's increasing the uncertainty and leaves little hope for traditional methods of exiting the crisis," he said.
European Union governments have struck a preliminary agreement to extend the measures against Russia by six months, according to two officials from the trading bloc. Final confirmation is due June 22, they said. Russia plans to react with a six-month prolongation of its ban on the import of a wide range of vegetable, fruit, meat and dairy products from the EU, according to two people with knowledge of the matter
Even if the slump will ease, the economy will be worse off in absolute terms a year from now, according to Gref, who was economy minister during Putin's first two presidential terms before leaving to run Russia's biggest lender, state-controlled Sberbank.
"A crisis always results from bad management," he said in St. Petersburg. "Today's situation is a result of structural problems and imbalances accumulated over time."
For more, read this QuickTake: Vladimir Putin
Before it's here, it's on the Bloomberg Terminal.
LEARN MORE