Puerto Rico Looks to Black-Market Slot Machines for Budget Help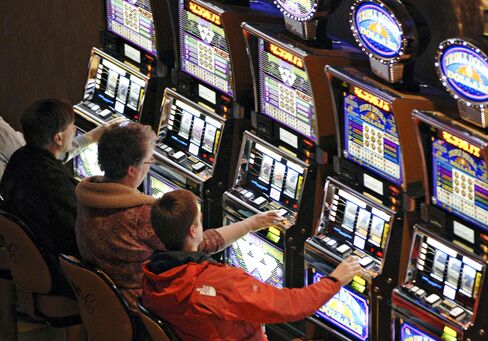 Facing a cash crisis, Puerto Rico is turning to desperate measures to pay the bills: It's delaying tax refunds, borrowing from its insurance company and may even legalize the black-market slot machines in grocery stores.
Lawmakers have yet to agree on a budget, with less than two weeks before the start of the new fiscal year. Without a spending plan in place, the junk-rated commonwealth won't be able to raise as much as $1 billion from investors to keep the government running as it waits for tax revenue to flow in.
"I have to prioritize," Treasury Secretary Juan Zaragoza said in an interview. "I have to choose between paying for education and tax refunds. It's a clear choice."
Such budgetary brinkmanship isn't unique to the Caribbean island of 3.5 million people. Illinois's workers may not be paid if a budget's not passed this month, and California once resorted to issuing IOUs. But losing access to the bond market poses a particular blow to Puerto Rico, where borrowing to paper over deficits has left the government and its agencies teetering under $72 billion of debt -- more than any U.S. state except California and New York.
Window Closing
Puerto Rico's securities have traded at distressed levels for almost two years amid speculation that the government and its agencies won't be able to pay the debt on time and in full. Bonds maturing in 2035 traded for an average price of 80 cents on the dollar Wednesday, down more than four cents since the beginning of June. That's pushed the yield to 10.4 percent, more than triple what investors demand for top-rated municipal debt.
"Puerto Rico continues to run out of time," Peter Hayes, head of munis at New York-based BlackRock Inc., which oversees $114 billion of the securities, told reporters last week. "How the commonwealth has really survived over the last six or seven years is access to the markets and that seems to be closing."
The adoption of a budget is crucial to Puerto Rico's ability to market short-term notes because it would give buyers assurance that they'll be repaid. Without access to investors, it may have to sell the securities to its publicly run insurance companies instead, Victor Suarez, the chief of staff for Governor Alejandro Garcia Padilla, told reporters on June 15.
The Government Development Bank, which lends to the commonwealth, is also waiting to sell $2.9 billion of bonds. The bank's net liquidity dropped to $778 million on May 31 from $2 billion in October. It may run out of cash by the end of September if the debt sale doesn't go through.
Friday Vote
The House of Representatives may vote as soon as Friday on the proposed budget, Rafael "Tatito" Hernandez, who chairs the House Treasury Committee, said in an interview Wednesday. The Senate must also approve it. A conference committee would then work out any changes before each chamber votes on the final bill.
Hernandez expects the spending plan to be passed by the end of the month.
Without a budget, lawmakers "will lose the opportunity to send money where they want," he said.
In case they don't approve one, Governor Garcia Padilla is searching for ways to keep services running until Puerto Rico can borrow again.
Checks Delayed
The government is delaying about $150 million of tax rebates until after July, yet it will have to pay recipients a 6 percent fee to do so, said Zaragoza, the Treasury Secretary. He's also letting some bills to suppliers go unpaid for now. Puerto Rico's already borrowed $100 million from the State Insurance Fund, which provides workers with compensation for disability.
"We are working very hard so that services to the people are affected as little as possible," Suarez, the chief of staff, told reporters this month. "But we must affirm to all our citizens the reality in which we are living."
Last month, Puerto Rico lawmakers passed $1.1 billion of sales-tax increases to help balance the budget. The legislature is now considering $674 million of spending cuts.
Seeking new sources of money, the governor may legalize and tax the slot machines that operate in supermarkets and other shops. If the legislature doesn't vote down the plan by July 5, the administration can begin implementing it, Zaragoza said.
Those taxes would bring in about $100 million during the first year, he said, and reach as much as $300 million annually after three. While delaying tax rebates, holding off payments to suppliers and borrowing from government insurance funds helps Puerto Rico address an immediate cash shortfall, it's only a temporary fix.
"We recognize that that becomes a snowball," Zaragoza said. "It's not something that we can do for six months. It's something that is not sustainable."
For more, read this next:
Before it's here, it's on the Bloomberg Terminal.
LEARN MORE