Prelude to Fed's First Rate Increase Suits U.S. Stocks Just Fine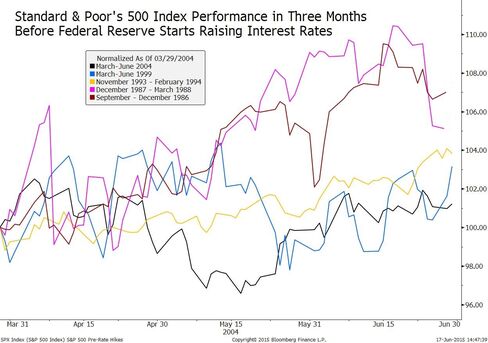 Investors can expect U.S. stocks to rise as they await higher interest rates from the Federal Reserve if history is any guide, according to David Rosenberg, Gluskin Sheff & Associates Inc.'s chief economist and strategist.
The Standard & Poor's 500 Index recorded a median advance of 3.8 percent in the three months before the Fed began lifting its benchmark rate since the 1980s, according to data Rosenberg cited in a report yesterday.
The attached chart highlights the S&P 500's performance in five periods, occurring in 1986, 1987-1988, 1993-1994, 1999 and 2004, that preceded multiple rate increases. The index rose each time. Gains ranged from 1.2 percent before the latest episode to 7 percent before rates began climbing in 1986.
Once the Fed's target rate for overnight bank loans starts to move higher, there's "a different tone to the market," the Toronto-based Rosenberg wrote. "It becomes a classic case of buy the rumor and then sell the fact."
The S&P 500's median loss for the three months that followed the first increase was 2 percent, the report said. Shares of smaller companies typically dropped even more, and bigger swings occurred in the Chicago Board Options Exchange Volatility Index, or the VIX.
Commodity producers were among the best-performing stocks both before and after the central bank's moves began, according to Rosenberg. He added that technology and industrial companies also fared relatively well.
Before it's here, it's on the Bloomberg Terminal.
LEARN MORE