Poundland's Slowing Sales Growth Shows Grocers Are Fighting Back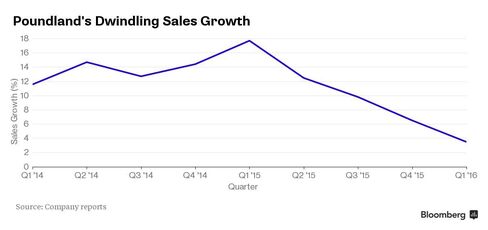 Poundland Plc's sales growth slowed to the lowest level in more than two years as the discount retailer began to feel the effects of a retaliation by Britain's supermarkets.
Revenue rose 3.5 percent in the 11 weeks ended June 14, Poundland said Thursday, a marked deterioration on the previous year's 11 percent growth. The performance equated to a decline in same-store sales of 3 percent to 4 percent, according to analysts at the company's brokerage adviser Shore Capital.
Supermarket price cuts extending to hundreds of millions of pounds mean that Poundland is "no longer getting away with being obviously cheaper on well-known brands," said Charles Allen, an analyst with Bloomberg Intelligence in London. "Supermarkets have been asking suppliers: how can Poundland sell your products for a pound, yet we're not able to?"
Market leader Tesco Plc, J Sainsbury Plc and Wal-Mart Stores Inc.'s Asda have been slashing prices for at least a year as they seek to wrestle back the initiative from budget chains including Germany's Aldi and Lidl. Recent sales figures have shown their efforts are starting to take hold, with the amount of goods sold at Sainsbury rising for two consecutive quarters. Tesco reports first-quarter results next week.
Poundland isn't the first discount retailer to feel pressure from the supermarkets' price reductions. Frozen-foods chain Iceland Foods Ltd. last week reported a 26 percent decline in its annual profit and sounded a warning over the dangers of ever lower prices.
"In the discount segment it has become increasingly clear that concentrating on price alone no longer provides an effective point of difference," the company said.
Shares Slide
Poundland CEO Jim McCarthy sought to downplay the latest sales slowdown, citing last year's "once in a decade" demand for loom-band jewelry, which saw the company shift millions of the colorful bracelets. McCarthy also pointed to the timing of last year's Easter holiday and warmer weather.
The CEO's comments weren't enough to prevent a further slide in Poundland's share price, now hovering close to the 300 pence at which the stock was sold in an initial public offering early last year. The shares were down 3.9 percent at 299 pence as of 10:13 a.m. in London.
Also Thursday, Poundland reported a 19 percent increase in underlying pretax profit to 43.7 million pounds for its 2015 financial year, meeting analyst estimates. Profit estimates for this year are expected to come down "slightly," Chief Financial Officer Nick Hateley said on a conference call.
Before it's here, it's on the Bloomberg Terminal.
LEARN MORE