NYC to Close Most of Central Park and Prospect Park to Traffic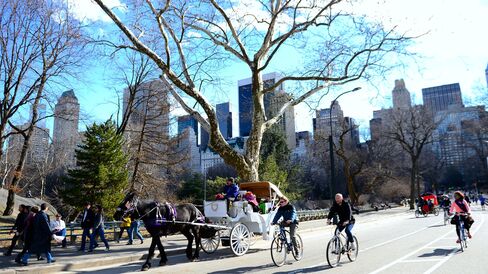 Runners, cyclists, skaters and strollers can traverse most of Manhattan's Central Park without fear of colliding with a car starting June 29, when a traffic ban goes into effect along the main loop north of 72nd Street.
Ditto in Brooklyn's Prospect Park, where vehicles will be banned from the West Drive between Grand Army Plaza and Park Circle after July 6. The road is now open for two hours weekday afternoons.
The changes make both parks mostly vehicle-free on weekdays for the first time since automobiles were allowed about 100 years ago, said Mayor Bill de Blasio, who announced the moves Thursday. The parks receive a total of about 45 million visits a year, the mayor's office said in a news release.
"Making the loop drives in Central and Prospect Parks permanently car-free for the first time in more than a century will make these great spaces safer, healthier and more accessible to the millions who flock to them," said de Blasio, a Brooklynite who announced the moves in Prospect Park, which he called "my family's backyard."
Central Park's underground east-west transverse roads will remain open, and emergency and park-maintenance vehicles will continue to use the five-mile (8-kilometer) loop drive north of the 72nd Street transverse.
Park users have been advocating traffic bans for decades, and former Mayor John Lindsay closed Central Park to cars on weekends in 1966, a move that was replicated in 1967 in Prospect Park. De Blasio's plan was hailed by cycling advocates.
'Historic Decision'
"Today's historic decision will allow more New Yorkers and visitors to the city to experience two of the nation's most famous urban refuges in the way that the parks' creators intended," said Paul Steely White, executive director of Transportation Alternatives, a nonprofit advocacy group that's been calling for vehicle bans in the two parks since 1979.
Department of Transportation analysts concluded that car bans don't significantly affect travel times or congestion in nearby neighborhoods, the mayor's news release said. Central Park has had car-free summer hours for the past two years without adverse impacts.
To further improve mobility adjacent to Central Park, the city will extend a heavily-used Fifth Avenue bus lane south from 110th Street 7 a.m. to 11 a.m. on weekdays, the mayor's office said.
Before it's here, it's on the Bloomberg Terminal.
LEARN MORE