Merkel Says Greece Accord Possible Only If Tsipras Moves
Chancellor Angela Merkel said a deal with Greece is still possible provided the Greek government follows through on the economic-reform pledges made to creditors.
Merkel, while shying away from the posturing and rhetoric of others that has characterized the standoff over the past week, offered no concessions in her speech to lower-house lawmakers in Berlin on Thursday. Instead, she contrasted the experience in Greece with fellow euro-area bailout countries that "took their chance" to overhaul their economies.
Reading from the agreement signed by Prime Minister Alexis Tsipras's government and euro-area creditors on Feb. 20, she said that Greece had committed to "comprehensive structural reform," much of which remained to be carried out.
"Greece has received unprecedented solidarity over the last five years," the chancellor said. "The basic principle still applies: help in return for reforms."
Merkel's view counts as leader of the largest contributor to Greece's 240 billion-euro ($273 billion) bailout. Her intervention came as euro-area finance ministers converge on Luxembourg Thursday in an attempt to resolve the standoff over aid that has persisted since February. The accord struck then afforded Greece an extension of its bailout to June 30, and officials have said the chances of a breakthrough in Luxembourg are slim.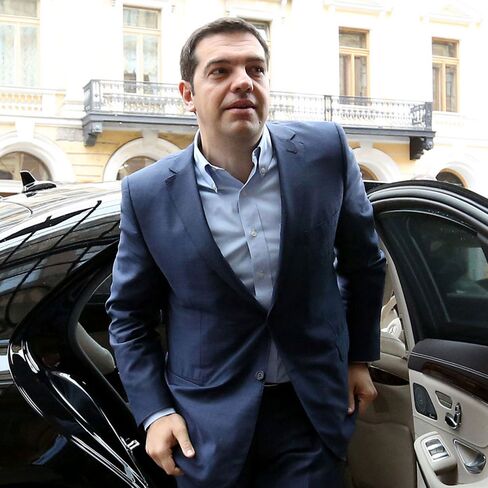 Greek stocks fell for a fifth day on Thursday, with the Athens Stock Exchange index dropping 3.6 percent at 12:24 p.m. local time. The index has lost 15.4 percent so far this week.
Yellen Warning
As Tsipras headed to an economic forum in St. Petersburg, where he will meet with Russian President Vladimir Putin, in the U.S., Federal Reserve Chair Janet Yellen warned of an spillover effect if a resolution isn't reached on Greece.
"Obviously the situation is worrying," French Finance Minister Michel Sapin said on France Info radio. "But it's most worrying for Greece."
With optimism in short supply that Thursday's meeting can seal an agreement to unlock as much as 7.2 billion euros in outstanding aid, the onus falls on European Union leaders to disentangle contentious issues such as sales-tax rates and pensions at a June 25-26 meeting in Brussels. That's also when Merkel and Tsipras will come face to face.
'Repeatedly Put Off'
In her speech, which previewed the summit, Merkel said that she would leave finance chiefs to work on the detail of any deal to resolve the deadlock. However, she made the point that efforts by euro-area aid recipients Ireland, Portugal and Spain had led to them "standing on their own two feet."
In Greece, meanwhile, "unfortunately some necessary structural reforms have been repeatedly put off," she said.
"Germany's efforts are directed at keeping Greece in the euro," Merkel said. "I remain firmly convinced that where there's a will there's a way. If those responsible in Greece show this will, then an agreement with the three institutions is still possible."
The speech has "a little undertone of frustration" that Greece hasn't reached out to take the offer Europe made last week, Holger Schmieding, chief economist at Berenberg Bank in London, said in a Bloomberg television interview.
"The primary message is that you in Athens, you the government, need to have the will," Schmieding said. "If you have the will, there's a way. But if you don't really want a deal with Europe roughly in line with the European rulebook, then of course we can't help you."
Read this next:
Before it's here, it's on the Bloomberg Terminal.
LEARN MORE