Lloyds Seen Facing Extra $3.2 Billion in Customer Compensation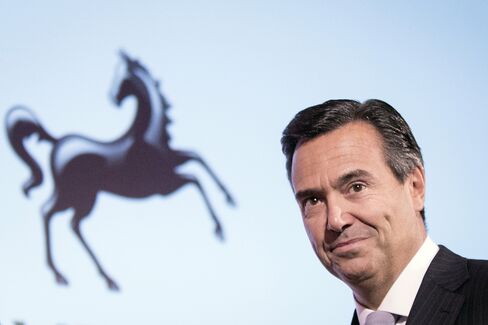 Lloyds Banking Group Plc could face an extra 2 billion pounds ($3.2 billion) in charges to compensate customers sold loan insurance they didn't want or need, Credit Suisse Group AG said.
Britain's largest mortgage lender may take a 661 million-pound provision to cover payment protection insurance redress and other litigation this year and next, with a 664 million-pound charge in 2017, analysts led by Carla Antunes Silva at Credit Suisse wrote in a note to clients on Thursday.
Chief Executive Officer Antonio Horta-Osorio's bonus is to be cut by 350,000 pounds after Lloyds was fined a record 117 million pounds by the U.K.'s Financial Conduct Authority this month for mishandling PPI complaints. He's set aside more than 12 billion pounds to compensate customers in Britain's costliest banking scandal since the financial crisis.
Lloyds didn't take a provision for PPI in the first quarter of this year after setting aside 2.2 billion pounds in 2014.
PPI and other scandals have "taken their toll, and rightly so, on the relationship between banks, their customers and society at large," Horta-Osorio said in a speech Thursday at a British Bankers' Association conference in London. "It is incumbent upon us to rebuild customer trust."
Although the bank may still face charges, Lloyds is in a position to increase profits and dividends over the next three years, the analysts, with a neutral rating on the stock, wrote. They estimate the bank will raise its dividend from 0.75 pence a share in 2014 to 3 pence this year, as a "sweetener" to a sale by the British government to consumers in 2016.
The government reduced its stake in Lloyds last week to
17.9 percent and Chancellor of the Exchequer George Osborne has said he'll start returning Royal Bank of Scotland Group Plc to private ownership in the coming months.
Before it's here, it's on the Bloomberg Terminal.
LEARN MORE