Be patient, job seekers: It's taking much longer to get hired in the U.S.
Candidates had to wait about 22.9 days for an offer or rejection in 2014, up from 12.6 days four years earlier, according to survey data from online job-search network Glassdoor Inc.
The longer wait time is largely due to a rise in the use of background checks for jobs, which have gotten cheaper to conduct, "as a proxy for judgment and quality of candidates for jobs" across fields, said Andrew Chamberlain, Glassdoor's chief economist.
The data show that government agencies, which typically encounter more regulatory hurdles in hiring and often conduct background checks before adding staff, take the longest to close the deal. Those averaged a 60-day wait, helping to explain why Washington blew other U.S. cities out of the water in this dubious superlative: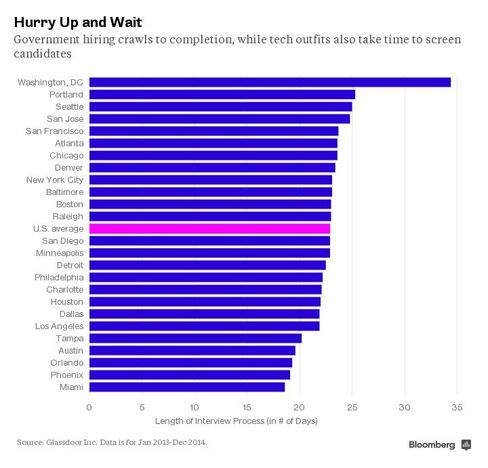 The average duration was 34.4 days in the nation's capital, more than nine days longer than the second-longest, Portland, of 25 of the biggest samples.
Joining D.C. near the top were several tech-centric cities: Seattle, San Jose and San Francisco. Those represent a more fundamental shift in the U.S. labor market toward "more high-tech, more non-routine, more judgment-oriented jobs," such as software engineers and data scientists, Chamberlain said. "Those things definitely take longer to tease out whether someone's a good candidate or not."
The Glassdoor data offer another look at how efficiently the job market is matching employers with job-seekers. The number of private-industry job openings outpaced the number of workers who were hired in April, a first in Labor Department data back to December 2000. Only 1.6 people are now vying for every job opening, compared with about 1.8 when the last recession began in December 2007.
While more job openings don't implicitly sound like a bad thing, the relative lag in getting unemployed Americans in those roles has economists questioning whether something has changed since the recession.
The relationship between job openings and the unemployment rate used to be a lot easier to decipher, back in the good ole days when hiring was proving more efficient. Now, the Beveridge Curve that plots these indicators has shifted into uncharted territory, showing that employers have been reluctant to close the deal even as they're asking for more workers.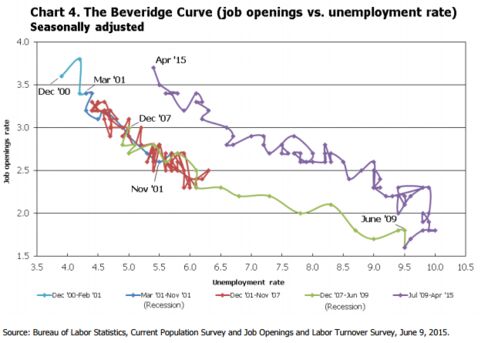 Indeed, more small-business employers were finding a hard time filling job openings in May than at any time since April 2006, according to survey data from the National Federation of Independent Business.
Still, the U.S. market is more efficient than some international peers. France, Germany, United Kingdom and Australia all had longer wait times between interview and hire. Only Canada recorded a shorter duration than the U.S.
For more on the global economy, check out Benchmark:
Before it's here, it's on the Bloomberg Terminal.
LEARN MORE