Deutsche Bank's New Chief Faces Postbank Exit Dilemma: Real M&A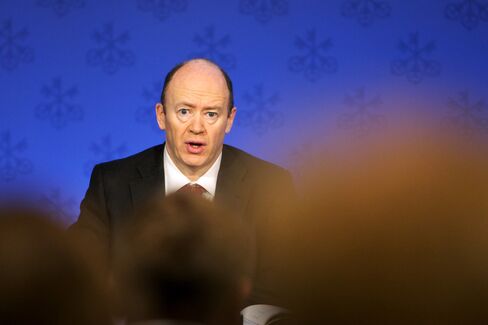 Deutsche Bank AG's incoming chief executive officer faces numerous challenges in his new role at the helm of Germany's biggest bank, including how to best part ways with the lender's Postbank consumer unit.
John Cryan, who was named the next CEO in a surprise shakeup this month, must decide between a faster take-the-money-and-run approach or a step-by-step exit. Does he accept a low offer from a strategic buyer, or list Deutsche Postbank AG on the stock exchange and sell down over time in hope of getting a better price?
"The challenges are enormous," said Chris Wheeler, a bank analyst at Atlantic Equities. "If they sell it cheaply, then clearly shareholders are going to be unhappy. The other option is they sell a part and then hopefully see the stock go up and sell a bit more. The risk is that stock prices can go down as well as up."
Either option risks aggravating already disgruntled and impatient shareholders, worn down by years of missed targets and underperformance. With a new CEO taking over right after the planned exit was announced, Deutsche Bank could also reverse that decision and retain the business.
Outgoing co-CEOs Anshu Jain and Juergen Fitschen unveiled a new strategy in April that included shrinking the investment bank and selling a stake in Postbank. The German bank said it would buy the remaining 3.2 percent of Postbank that it doesn't already own before re-IPOing the unit, reducing its stake to less than 50 percent by the end of 2016.
Deutsche Bank spent more than than 6 billion euros ($6.8 billion) to gain control of Postbank and its current book value is 6.7 billion euros, according to data compiled by Bloomberg. But it may struggle to recoup that amount.
Potential Suitors
Bawag PSK Bank AG, the Austrian bank controlled by U.S. buyout firm Cerberus Capital Management, has informally contacted Deutsche Bank about acquiring Postbank for about 4.5 billion euros, according to people familiar with the matter. Merging the two lenders would create one of the largest retail banks in German-speaking countries, one of the people said.
Before Deutsche Bank announced plans to divest a stake in Postbank, it also drew preliminary interest from Banco Santander SA and Chinese lenders, according to a person familiar with the matter.
Other potential suitors may include Banco Bilbao Vizcaya Argentaria SA or Intesa Sanpaolo SpA, according to potential banking advisers, who asked not to be named discussing specific clients. Despite the interest from strategic buyers, the bank is keen to pursue an initial public offering for the unit next year, Jain said on a conference call in April.
Spokesmen for Bawag, BBVA and Santander declined to comment. When asked about management's plans for Postbank, Deutsche Bank spokesman Klaus Winker referred to a press statement from April, which says the bank will seek to re-IPO Postbank.
Deutsche Bank shares fell 0.5 percent to 27.05 euros at 2:15 p.m. in Frankfurt, valuing the lender at 37 billion euros.
Volatile Stock
Postbank currently trades at about 1.2 times the value of its underlying assets. That's a premium to the median price-to-book multiple of about 0.9 for a group of 32 of its European retail banking peers, according to data compiled by Bloomberg.
Deutsche Bank controls about 97 percent of Postbank and the remaining shares are not heavily traded. Postbank stock has been volatile amid takeover speculation, an employee strike and plans for the owner to squeeze out minority shareholders, pushing its current market valuation to 8 billion euros.
Western European bank takeover targets valued at more than $1 billion have commanded about 1.1 times book value in deals announced in the last five years, data compiled by Bloomberg show. Spain's Banco de Sabadell SA is paying 1.7 billion pounds ($2.7 billion) for Postbank peer TSB Banking Group Plc, about the same as its book value at the end of last year.
Consolidation among European banks has slowed this year, with just seven successful deals announced so far -- 50 percent fewer than in the first two quarters of 2014 -- according to data compiled by Bloomberg. Just one multi billion-dollar deal have been agreed; Sabadell's purchase of London-listed TSB Banking.
Should Wait
There's no need to sell quickly because Postbank is a stable business with limited downside and prices for banking assets are low at the moment, says Lutz Roehmeyer, who manages $1.1 billion at Landesbank Berlin Investment GmbH, which also invests in Deutsche Bank shares. "They can wait for years," he wrote in response to e-mailed questions. "They should not destroy shareholder value."
Other analysts disagree and are pushing for a sale.
"It would be better for Deutsche Bank to sell Postbank," said Dirk Becker, a Frankfurt-based analyst at Kepler Cheuvreux. "Postbank is dramatically overrated."
After Postbank employees across Germany went on strike in April, management agreed to extend employees' dismissal protection until June 30, 2017, making radical cost-cutting measures more difficult for a potential new owner. Additionally, about one-third of the bank's staff are German civil servants, making them virtually immune to job cuts.
Big banks may also hesitate to buy Postbank because regulators are introducing stricter leverage requirements.
"It wouldn't be worth it for another global systemically important financial institution to buy Postbank," said Michael Seufert, an analyst with Norddeutsche Landesbank who recommends investors hold the shares. "Because of the civil servants, unions and leverage requirements for some buyers, Postbank isn't an easy acquisition target."
One Solution
One solution that may balance the needs of investors would be a two-step public offering, said Neil Smith, an analyst at Bankhaus Lampe in Dusseldorf, who recommends clients buy Deutsche Bank stock. "They could answer the call to do something immediately without sacrificing too much in the way of price by doing a two-step disposal. You basically do the first step quickly to answer the critics and then you don't lose too much in the way of price later."
Either way, management needs to please shareholders, analyst Seufert said. "Deutsche Bank giving up on Postbank -- particularly in a phase where you can't expect to get much money out of it -- isn't pleasant news for shareholders."
Before it's here, it's on the Bloomberg Terminal.
LEARN MORE