Brazil's Neves Slams Venezuela 'Aggression' in Failed Visit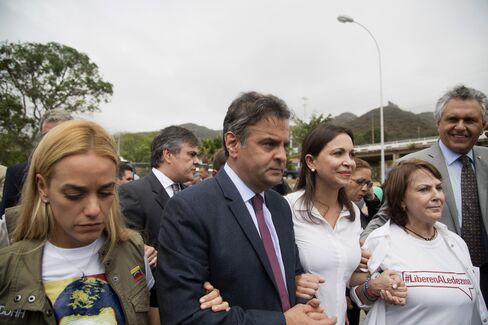 Lawmakers in Brasilia took Venezuelan authorities to task and Brazil's opposition leader, Aecio Neves, accused the country of "aggression" following a fraught attempt to visit political prisoners in Caracas.
A group of Brazilian opposition senators who accompanied Neves flew out of Caracas's airport just hours after arriving on Thursday. Government supporters and unscheduled road work blocked them from entering the city to visit jailed Venezuelan politicians Leopoldo Lopez and Antonio Ledezma as well as students on a hunger strike.
"The aggression against Brazilian legislators is aggression against Brazil," Carlos Sampaio, a leader of Neves's Brazilian Social Democratic Party, said in a statement. "The least that we can expect from Brazil's Foreign Ministry is an expression of repudiation."
Brazilian lawmakers spent Thursday's session approving a motion to criticize Venezuelan authorities for the incident, postponing the vote on a government bill to raise taxes.
"The aggression was against the national Congress, not just the senators who are in Venezuela," Neves, who lost the runoff to Dilma Rousseff in last year's presidential election, wrote on his Twitter page Thursday afternoon.
The president of Brazil's lower house of Congress, Eduardo Cunha, said he spoke with his country's foreign minister, Mauro Vieira, by phone on the issue. Rousseff also discussed the incident with Vieira, Cunha said.
Lopez, Ledezma
Lopez has been in jail for more than a year on charges of instigating violence in anti-government protests that left 43 people dead in 2014. Intelligence police in February arrested Ledezma, who was charged with conspiring against the government.
Earlier this month, Spain's former prime minister, Felipe Gonzalez, left Venezuela on a Colombian Air Force plane after being barred from visiting Lopez and others. Gonzalez, who oversaw Spain's transition to democracy in the 1980s, "fled like a coward," Venezuela's President Nicolas Maduro said on state television June 10.
A press officer at Venezuela's presidency, who cannot be named because of internal policy, declined to comment when asked about Thursday's incident.
Before it's here, it's on the Bloomberg Terminal.
LEARN MORE