Biggest Pharma Takeover Duel May Play Out in Amsterdam Court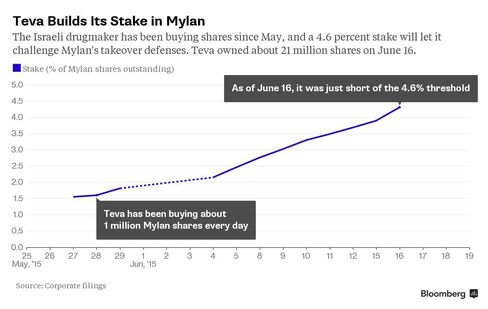 As Teva Pharmaceutical Industries Ltd. builds up a stake in fellow generic-drug maker Mylan NV, a little-known Dutch court could become a crucial battleground in the year's biggest pharmaceutical takeover struggle.
Teva owns 4.49 percent of Mylan, according to a filing Thursday, nearing the 4.6 percent threshold needed to initiate proceedings at the Enterprise Chamber in Amsterdam. It began snapping up shares after its $40.1 billion takeover offer was rebuffed by Mylan, which last year relocated to the Netherlands and adopted a poison pill provision to thwart hostile takeovers.
Teva will probably keep buying shares and use the Dutch registration to its advantage, said Liav Abraham, an analyst for Citigroup Inc. in New York, in a note to clients. The most likely scenario is for Israel's Teva to sweeten its offer, triggering a Mylan poison pill that would issue new shares to a foundation. Then Teva would turn to the chamber to challenge that defense, according to Abraham.
"Teva will be able to utilize the Dutch legal system in order to maneuver around potential hurdles surrounding a potential acquisition of Mylan," she said.
It wouldn't be the first time the chamber, a special appeals court for shareholder disputes, is at the center of a takeover battle. It sided with ABN Amro Holding NV shareholders in a case related to the 2007 acquisition of the Dutch bank by Royal Bank of Scotland Group Plc and its partners Banco Santander SA and Fortis, though the Supreme Court eventually overturned the decision.
Next Step
John Paulson's hedge fund Paulson & Co., which has been boosting its stake in Mylan, also turned to the same Dutch court to cancel preferred shares issued by Stork NV in 2007. Stork had set up the same defense as Mylan to remain independent, creating a Dutch foundation known as a stichting. The ruling paved the way for the Dutch builder of airplane parts to be sold to Candover Investments Plc.
Representatives for Teva and Mylan didn't reply to a request for comment.
Teva may argue that Mylan's board isn't acting in the interest of shareholders, Abraham wrote in a June 12 report. At the same time, it may keep buying Mylan shares or join with other shareholders to gain a 10 percent stake, at which point it will have the right to call a shareholder meeting under Dutch law.
Mylan, based in Canonsburg, Pennsylvania, has rejected Teva's offer and argued it makes more sense to pursue its own takeover of drugmaker Perrigo Co. for about $32.7 billion. Mylan's Dutch foundation named Lazard as its financial adviser on June 11, a week after saying it had concerns about Teva's purchases of Mylan shares on the open market.
Mylan shareholders will get to vote on the Perrigo deal at a meeting in July or August. The vote will effectively be a referendum on the Teva offer, since the Petach Tikva, Israel-based company has said it will walk away if the Perrigo deal is approved. Mylan's largest shareholder, Abbott Laboratories, has already said it will back Mylan's management.
In a new note Thursday, Citigroup said Teva is expected to make a formal tender offer for Mylan within the coming days -- a necessary step to give Mylan shareholders an alternative to the Perrigo deal. Teva could also call for the removal of Mylan's board members, Citigroup said.
Before it's here, it's on the Bloomberg Terminal.
LEARN MORE