VietJet to Buy Six Airbus A321s for $682 Million as Demand Rises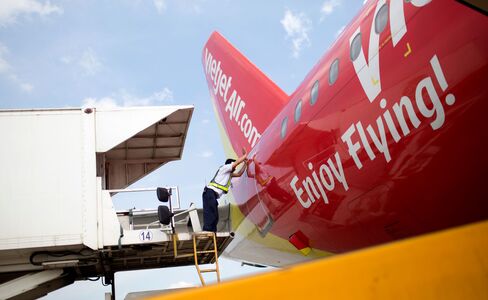 VietJet Aviation Joint Stock Co. agreed to buy six Airbus Group SE A321s valued at $682 million adding to a 100-jet contract with the planemaker last year as it expands routes in Vietnam and overseas.
The new planes will be delivered in 2017, VietJet, the nation's only privately owned carrier, said in a statement before a signing ceremony at the Paris Air Show on Wednesday.
VietJet's passenger numbers will climb 67 percent to 10 million in 2015, Managing Director Luu Duc Khanh forecast this month. The company has announced plans to sell bonds and shares to fund expansion aimed at increasing international routes and boosting its domestic market share to more than 50 percent.
"VietJet has grown faster than expected in the last few years and our previous purchasing plans for new aircraft could not keep up with developing demand," Khanh said in the statement.
The Hanoi-based carrier expects to receive six to 12 Airbus aircraft annually until the 100-jet purchase and lease order from last year is complete, it said in the statement.
VietJet wants to raise about $800 million this year from a corporate bond issue, loans and an initial public offering to fund its expansion, Khanh said in January.
"Our mission is to ceaselessly expand our coverage to increase our domestic market share to exceed 50 percent, as well as to have more international air routes," Khanh said in an e-mail on June 12. The carrier has a 40 percent share of Vietnam's domestic market now, he said.
For more on the 2015 Paris Air Show, go here: Special Report
Before it's here, it's on the Bloomberg Terminal.
LEARN MORE