U.K. Wage Growth Accelerates as Jobless Rate Holds at 5.5%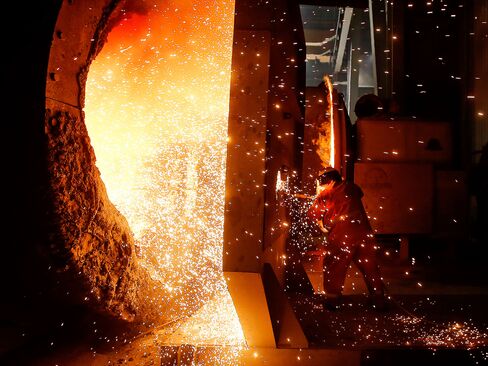 U.K. unemployment stayed at is lowest rate since 2008 and wage growth accelerated more than economists forecast in a sign the labor market is gathering momentum.
Unemployment based on International Labor Organization methods fell 43,000 to 1.81 million in the three months through April, leaving the jobless rate at 5.5 percent, the Office for National Statistics said Wednesday. Total wages grew by 2.7 percent, the most since August 2011. Pay excluding bonuses increased at the same pace.
An improving labor market is underpinning consumer spending at a time when exporters are continuing to struggle. With inflation close to zero, the Bank of England has signaled it is in no hurry to raise interest rates, with money markets betting policy makers will hold the benchmark rate at 0.5 percent for another year. Much may depend on whether Britain can increase the amount each worker produces.
Economists had forecast the jobless rate would be at 5.5 percent, based on the median of estimates in a Bloomberg News survey. In April alone, the rate rose to 5.7 percent from 5.5 percent in March. The number of people in work rose 114,000 to 31.1 million.
A narrower measure of unemployment showed claims for jobless benefits fell 6,500 in May from April.
For the first time, the figure includes unemployed people claiming Universal Credit, a new benefit being rolled out in stages across the country. It's designed to support people who are on low incomes or out of work and will eventually replace six separate benefits, including Jobseeker's Allowance, with a single monthly payment. Under the old measure claims fell 15,700 in May.
In the three months through April, pay growth accelerated from an upwardly revised 2.3 percent. Pay growth excluding bonuses, at 2.7 percent, was the fastest since February 2009. In April alone, wage growth stayed at 2.9 percent, the most since December 2008.
Before it's here, it's on the Bloomberg Terminal.
LEARN MORE