Swiss Prosecutor Examines Bank Transactions in FIFA Probe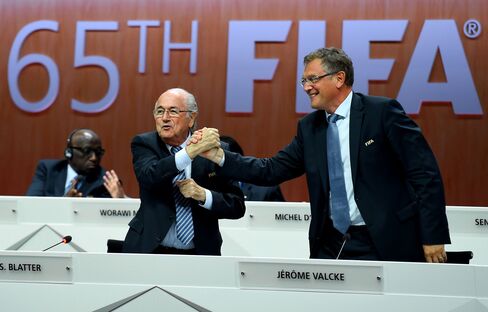 Swiss authorities are investigating 53 FIFA-related banking activities as part of a probe into corruption in international soccer, Federal Prosecutor Michael Lauber said.
The activities were reported by banks to the Swiss Money Laundering Reporting Office, Lauber said. He is also examining 104 separate banking relations, each representing several bank accounts, identified through help from authorities abroad. Those are relationships with banks in Switzerland, he said.
FIFA is considered the injured party "for the time being," Lauber told reporters at Bern press briefing, without giving a timetable for probe. The prosecutor's office has begun studying 9 terabytes of data it's received to date and that will take time, Lauber said.
"The world of football needs to be patient," he said. "This will take more than the legendary 90 minutes," the length of a soccer match.
Swiss federal prosecutors seized documents from FIFA headquarters on May 27 and opened cases against "persons unknown on suspicion of criminal mismanagement" related to 2018 and 2022 World Cup tournaments awarded to Russia and Qatar respectively. President Joseph "Sepp" Blatter and Secretary-General Jerome Valcke may be interviewed in this investigation.
Seven FIFA officials are among 14 soccer executives who have been indicted on bribery, racketeering and money laundering charges by U.S. authorities. Blatter, 79, said four days after being elected to a fifth term that he would step down by next March.
Swiss lawmakers broadened money laundering laws in December to include sports officials. The country is home to over 25 sporting federations including the International Olympic Committee, Europe's soccer federation UEFA and the International Cycling Union.
Read this next:
The Swiss probe is being led by the head of its white-collar crime divisions and included forensic computing experts, Lauber said Wednesday. He stressed his investigation is distinct from U.S. efforts and that documents from the Swiss investigation will "not be shared automatically" with U.S. authorities but rather be subject to the rules of mutual legal assistance.
Swiss bank Julius Baer Group Ltd., was also mentioned in a U.S. Justice Department indictment of FIFA officials in May. The Zurich-based bank held an account, or accounts, for FPT Sports that received transfers of $5 million and $1.7 million from U.S. correspondent accounts, according to the indictment. Alejandro Burzaco, one of the 14 indicted by FIFA, was a controlling principal of FPT Sports.
"We have launched an internal investigation and we are fully cooperating with the authorities," Julius Baer spokesman Jan Vonder Muehll said on Wednesday. He declined to comment further on the banking activities Lauber referred.
Before it's here, it's on the Bloomberg Terminal.
LEARN MORE