Slower Fed Rate Increases Will Save Taxpayers $37 Billion
Perceptions of a slow-going Fed prompted the CBO to cut its interest-rate forecasts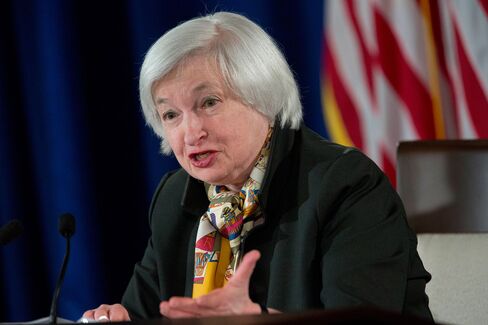 Federal Reserve Chair Janet Yellen turned out to be much more dovish than the government's bean-counters expected a year ago.
In a report on long-term debt released Tuesday, the Congressional Budget Office cut its forecast for market interest rates. It now predicts the real, or inflation-adjusted, rate on 10-year Treasuries will be 1.2 percent next year, compared with a previously projected 2.2 percent, and 2.1 percent in 2019, down from a prior forecast for 2.6 percent.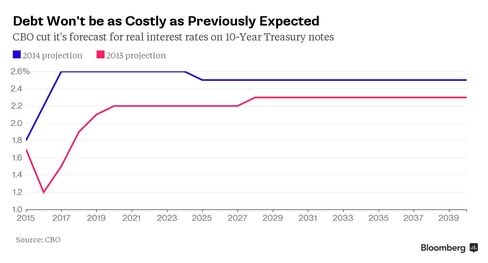 CBO said it changed its forecasts after incorporating financial market participants' expectations. Still, those are based on traders' and analysts' estimates of inflation levels and Fed's next steps.
"Participants in financial markets expect low interest rates well into the future, and the paths that they anticipate have fallen notably over the past year," the CBO said.
The office defines the real interest rates as the average nominal interest rate on 10-year Treasury note minus the rate of change in the consumer price index, a proxy for inflation.
As a consequence, net spending on interest will be 1.5 percent of gross domestic product next year, compared with 1.7 percent predicted last year, a savings of about $37 billion, according to Bloomberg calculations.
CBO's forecast for interest rates for the next few decades are also lower: 2.3 percent in 2028 and beyond instead of the 2.5 percent the agency saw last year. As a consequence, long-term federal debt and interest costs on that debt are seen lower than previously forecast. Debt is seen rising to 105 percent of gross domestic product in 2039, compared with 111 percent forecast last year.
Even so, that's still a lot of debt. And if government borrowing grows as is projected, it could harm growth in the long run, the CBO said.
Higher debt levels "cause a larger share of the savings potentially available for investment to be used for purchasing government securities, such as Treasury bonds," the CBO said. "Those purchases would crowd out investment in capital goods—factories and computers, for example—which would make workers less productive. Because wages are determined mainly by workers' productivity, the reduction in investment would reduce wages as well."
For more on the global economy, check out Benchmark:
Before it's here, it's on the Bloomberg Terminal.
LEARN MORE