Singapore's Export Decline Adds to Signs of Economic Slowdown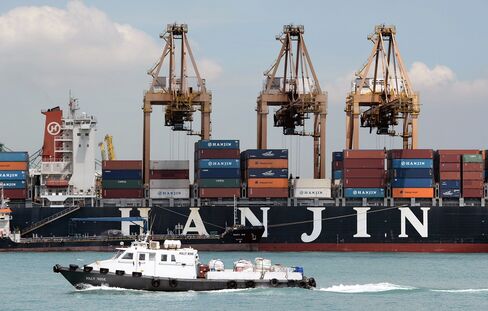 Singapore's overseas sales unexpectedly fell for the first time in three months, signaling a weakening growth outlook for the export-dependent nation.
Non-oil domestic exports fell 0.2 percent in May from a year earlier as shipments of petrochemicals and electronics declined, data on Wednesday showed. That compares with the median estimate for a 2.3 percent gain in a Bloomberg survey of 16 economists.
The exports decline follows steep falls in the value of shipments from Asian economies including Indonesia and India amid lower commodity prices and weak demand in developed nations. They also add to sluggish data at home, after consumer prices declined for a sixth straight month in April and employment contracted last quarter for the first time since the aftermath of the global financial crisis in 2009.
"There are labor-market constraints that are going to eat into the value-add of the economy," Vishnu Varathan, a Singapore-based economist at Mizuho Bank Ltd., said before the report. "Even if the domestic sector is fairly resilient, I think the case for gross domestic product to pick up substantially is a very weak one this year."
Singapore's employment contracted in the first quarter as manufacturing and construction jobs fell by 10,500 even as services employment increased by 4,300. Home sales dropped 45 percent in May as developers offered fewer projects, according to data released Monday.
Before it's here, it's on the Bloomberg Terminal.
LEARN MORE