Remy Cointreau Soars as Profit Beats Estimates Amid Premium Push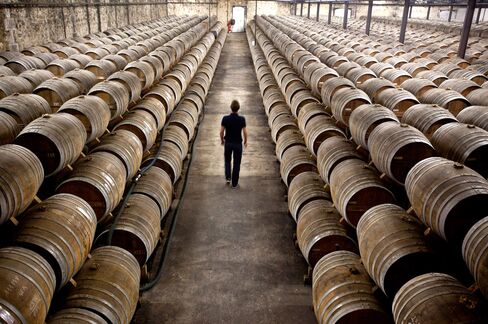 Remy Cointreau SA rose the most in more than a year as the French distiller reported profit that beat analysts' estimates and unveiled a plan to widen profit margins by becoming the world's biggest seller of high-end spirits.
The shares soared as much as 9.2 percent in Paris, the most since April 2014, after Remy said full-year operating profit rose 14 percent. Declines in cognac were offset by gains in liqueurs and spirits like Bruichladdich scotch whisky. The Paris-based company intends to become the global leader in spirits sold for $50 or more, an $18 billion-market that's growing at more than twice the pace of lower-priced hooch.
Remy, along with Diageo Plc and Pernod Ricard SA, has used acquisitions and innovation to shift its product lineup toward steeper price tags that generate more profit per bottle. The push to make so-called "exceptional spirits" account for as much as 65 percent of sales, up from 45 percent now, will help widen Remy's operating margins to between 18 percent and 20 percent by the fiscal year ended March 2020, the company said in an investor presentation Wednesday.
"Such diversification is welcome and potentially opens the door for M&A," Jonathan Fyfe, an analyst at Mirabaud, said in a note.
Remy Chief Financial Officer Luca Marotta said in the presentation that acquisitions could be part of its plans if targets fit the strategy to focus on high-end brands. The company ended the year with a profit margin of 16.2 percent.
Marotta also said he saw no sign of a recovery in the market for luxury goods in China, where a government crackdown on bribery has weighed on sales of everything from Swiss watches to cognacs. In response, Remy and other cognac makers are trying to boost sales in the U.S. and other markets.
Remy's shares were up 3.2 percent to 66.18 euros at 11:46 a.m. in Paris, after earlier reaching 70 euros.
Before it's here, it's on the Bloomberg Terminal.
LEARN MORE