Podemos Insurgency Drives Spain's Renewal as Rajoy Warns of Risk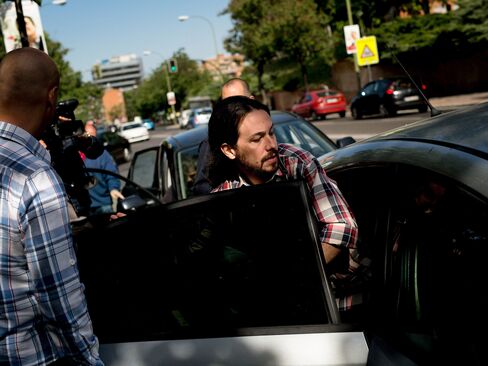 Prime Minister Mariano Rajoy says the rise of new parties challenging the political establishment threatens Spain's recovery.
His own attempts to stay in office may actually do more damage to the country's prospects.
The prime minister is due to announce changes to his government team on Thursday to drive home the message that its his economic reforms rather than central-bank bond purchases that have spurred the fastest expansion in seven years. With almost a third of Spaniards at risk of poverty and the governing party beset by corruption allegations, some analysts are more concerned by Rajoy's struggle to address the culture of cronyism that helped tip the country into economic crisis.
"Every analyst is saying privately, thank God there is the prospect of cleaning up the Spanish political system," said Nicholas Spiro, managing director of Spiro Sovereign Strategy in London. "There is no bull case for Spain under current conditions."
As he prepares to fight an election, Rajoy is pointing to Greece's travails as a warning to voters that they risk derailing the recovery if they back insurgent parties like the anti-austerity group Podemos. In fact, even some ideological allies of the prime minister argue the emergence of new forces may help steer Spain toward more lasting growth by tackling graft and modernizing the machinery of government.
"Corruption and crony capitalism are killers for any economic system," Jorge Trias, a former People's Party lawmaker, said in an interview. "So this is wholly positive."
After 33 years in which either Rajoy's People's Party or its traditional rivals, the Socialists, have controlled the Spanish government, Rajoy has a fight on his hands to hang on to office as voters' anger at corruption cases and the impact of austerity policies costs the party support.
Local Elections
Following a cluster of regional and local elections last month, candidates backed by Podemos took power in Madrid, which the PP had ruled for 24 years, and Barcelona. Support from Ciudadanos, a pro-market party that emerged as a national force this year, allowed Socialist candidate Susana Diaz to become Andalusia's regional president this month, and the party is in advance negotiations to support the PP in Madrid's regional assembly.
Those trends signal a broader shift in the country's political map with Rajoy's record majority from 2011 likely to be replaced by a patchwork parliament. A Celeste-tel survey this month for eldiario.es, a news website, showed the PP leading the Socialists by 30 percent to 27 percent with Podemos on 13 percent and Ciudadanos on 11 percent.
Many analysts have highlighted the potential pitfalls of that shift.
Fitch Ratings said in a June 1 report the regional election results may jeopardize the process of reining in the budget deficit. Ruben Segura-Cayuela at Bank of America Merrill Lynch said it may become harder to push through fixes for the economy under a fragmented parliament.
"Taxation, the labor market and pension reforms, and existing fiscal adjustment will remain at risk," Segura-Cayuela said in a May 25 note. "Some of the advances in economic policy could potentially be reversed."
The emergence of Podemos and Ciudadanos will probably see at least one of the new parties join a governing alliance in the next parliament, or force the traditional parties to form a grand coalition, according to Juan Jesus Gonzalez, a sociology professor at UNED, a university in Madrid.
Party Corruption
Either way, the next government is going to have to address voters' concerns about the wave of corruption allegations that have surfaced since the last election in 2011, Gonzalez said. In the latest development, a National Court judge on May 28 ordered the Rajoy's party itself should be tried over suspected illegal financing stretching back to 1990.
Ciudadanos's economic policy chief, Luis Garicano, argues that the systemic graft has broader ramifications for the Spanish economy beyond the squandering of public resources. Ambitious young people see they have a better chance of getting rich by making political connections than by starting their own businesses, Garicano said in a June 3 interview, and that limits Spain's capacity to create jobs.
Garicano wants to introduce criminal penalties for anti-trust violations to give opportunities to those, particularly younger workers, who've been shut out. Rajoy, a former property registrar, drafted a law drafted to open up professions like law, architecture and pharmacy to more competition in 2012 and never sent it to parliament.
"From the economic point of view, the entrance of new players can reduce protectionist inertia," said Antonio Barroso, a London-based analyst at Teneo Intelligence, which advises investors on political risk. "In the long term, the outcome will depend on the ability of parties to reach pacts that provide stability."
Before it's here, it's on the Bloomberg Terminal.
LEARN MORE