No Crime to Dance All Night in Japan as Clubbing Law Relaxed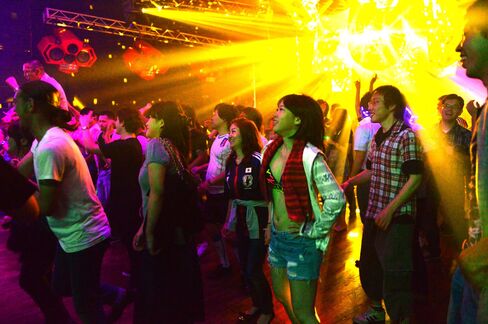 Japanese clubbers can now legally groove the night away in celebration of relaxed dancing restrictions.
The upper chamber of the country's parliament passed a change Wednesday to a 67-year-old anti-prostitution law to end the designation of night clubs as adult entertainment businesses, allowing them to operate after midnight -- as long as people aren't dancing in the dark.
Establishments that don't serve food and drinks are excluded from regulations; those that don't provide alcohol will be designated as restaurants if they keep lighting above 10 lux -- a measure of brightness roughly equivalent to twilight -- while those that sell booze will need a special dancing license.
Clubs that keep lighting under 10 lux will continue to be designated as part of the sex trade.
The revision is part of Prime Minister Shinzo Abe's broader push to loosen regulation as part of his so-called Abenomics plan to pull the world's third-largest economy out of more than a decade of deflation. It was also partly prompted by a petition signed by more than 160,000 people and supported by the music business calling for a change in the law.
It follows police raids in recent years on clubs and bars across Japan for operating illegally. Even so, large venues such as Tokyo's Ageha and Womb attract thousands of young people until the early hours at weekends.
Nick Clarke, a director at Tokyo-based events marketing agency Eggworm K.K., said the change in the law will change little at first.
"There were many clubs operating while this law was in effect, and the reason they have closed has very little to do with the law, as they had a disregard for it anyway," Clarke said.
'Considerable Vagueness'
The original law was passed in 1948 to eradicate prostitution associated with so-called dance halls. Still, the new law isn't an ideal solution, according to Koichi Nakano, a professor of politics at Sophia University in Tokyo.
"There is considerable vagueness over the term 'entertainment' that leaves excessive discretionary power to the police that gets to interpret and enforce the new law, which is accompanied by harsher penalties for offenders."
Kumiko Omura, a 35-year-old Tokyo resident who has been clubbing for more than a decade, was relieved by the revision.
"Dancing at clubs has long been associated with strip clubs, but it is nothing of the sort," Omura said. "It was a very contradictory law, given that dance is a compulsory subject at schools."
Before it's here, it's on the Bloomberg Terminal.
LEARN MORE