Israel-U.S. Feud Over Iran Liable to Reignite, Ex-Envoy Says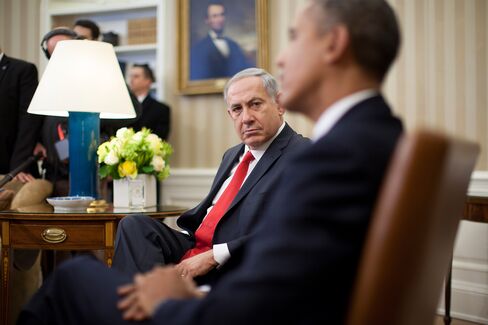 The simmering feud between Israeli Prime Minister Benjamin Netanyahu and President Barack Obama is likely to flare up again if the U.S. reaches a nuclear accord with Iran, former Israeli Ambassador Michael Oren said.
Oren, who was Netanyahu's envoy to Washington and is now a member of the Israeli parliament, said in an interview on Wednesday that he doubts the U.S. leader's assurances that he won't sign a "bad deal" with Iran and that economic sanctions eased by the proposed agreement could be "snapped back" if Iran cheats.
Talks in Vienna between Iran and world powers led by the U.S. aim to reach a deal by June 30 to limit Iran's nuclear program and ease sanctions. Obama has said his government will only sign on to an agreement that will block Iran from obtaining nuclear weapons, a goal the Islamic Republic denies pursuing.
"We're going to have a substantive difference that's going to continue regarding America's relationship with Iran because Obama has made clear that the nuclear agreement is not an end in itself," said Oren, an American-born historian who was Israel's envoy to Washington from 2009 to 2013.
"It's part of a broader outreach and sort of a reset with Iran," Oren said from Jerusalem in a phone interview. "What if that reset on Iran does not include an end to Iran's pledge and effort to destroy the Jewish state?"
Deliberate Damage
Obama and Netanyahu have also sparred over U.S.-led peacemaking with the Palestinians, and Oren said he sees little chance of talks resuming soon. He says Israel should confine West Bank settlement construction to the large blocs it expects to keep in any future agreement.
"We have to act in a manner that shows the world we're serious about peace," Oren said.
Tensions between Obama and Netanyahu reached their height in March when the premier criticized Obama's Ian nuclear diplomacy at a joint session of Congress. He was invited to speak by Obama's chief domestic rival, Republican House Speaker John Boehner.
Since then, Netanyahu has won re-election in Israel and the countries have sought to play down their differences, without resolving them.
Oren has written an insider account of the Obama-Netanyahu feud that is due to be published next week, titled "Ally: My Journey Across the American-Israeli Divide."
Deliberate Damage
In a June 16 op-ed for the Wall Street Journal headlined "How Obama Abandoned Israel," Oren said that while both Netanyahu and Obama contributed to damaging ties between the two countries, the U.S. president did it deliberately. Obama violated long-respected understandings that Israeli-U.S. disagreements not be aired in public and neither country's leadership should surprise the other with political actions, Oren said.
The U.S. ambassador to Israel, Daniel Shapiro, took issue with that argument on Wednesday. Oren published "an imaginary account of what happened," Shapiro told Israel's Army Radio. "He was an ambassador in the past, but he is now a politician and an author who wants to sell books."
Moshe Kahlon, the head of Oren's Kulanu party, distanced himself from the former diplomat's views and sent a letter of apology to Shapiro, according to Israel's Channel 2 television. The letter expressed appreciation for Obama's contribution to Israel's security, it said.
In response to Shapiro's comments, Oren defended his record as an ambassador and said that "to imply in any way that I'm doing this for easy material gain would be to do me a disservice."
Before it's here, it's on the Bloomberg Terminal.
LEARN MORE