Monsoon Rain Defying El Nino Threat Boosts India Crops, Economy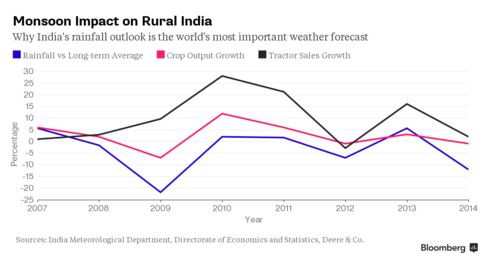 Planting of crops from rice to cotton and soybeans in India is gathering pace as farmers benefit from an increase in monsoon rains, defying forecasts that a developing El Nino would curb rainfall.
Almost 80 percent of India received excess or normal downpours since June 1, allowing farmers to begin sowing of rice, cotton, corn and soybeans in the south, west and central regions, according to the Meteorological Department. The good showing is set to continue through June, it estimates.
A better-than-expected start to the monsoon in an El Nino year has eased concerns of dry weather fueling inflation in Asia's third-largest economy, where food costs represent almost half of the consumer price index. Normal rainfall is critical for Prime Minister Narendra Modi's plan to accelerate economic growth in a country where smartphone makers to gold jewelry retailers derive the bulk of their sales from 833 million people living in villages, most of whom depend on farming.
"We can't thank god enough for the good rains so far," said Rao Saheb Devrao Ingole, a 53-year-old cotton farmer from Maharashtra. "Good rainfall in June has always helped sowing."
Farmers depend on the monsoon, which accounts for more than 70 percent of annual rainfall, to grow crops and produce hydro-electricity, and for drinking water. The rainfall during the June-September season waters more than half of nation's farmland, where sowing begins in June.
July Rains
While rainfall has been 11 percent more than the average between 1951 and 2000, showers in July hold the key to a bumper harvest, according to TransGraph Consulting Pvt., a Hyderabad-based commodity consultant. Precipitation in July accounts for more than a third of the season's total of 89 centimeters (35 inches), according to the weather bureau.
The developing El Nino will curb monsoon rainfall to 88 percent of average this year, the second back-to-back shortfall in three decades, the Meteorological Department says, while private forecaster Skymet Weather Services Ltd. predicts precipitation will be 102 percent of the average.
"The recent rains have eased concerns and we expect good progress in crop sowing," said Nagaraj Meda, managing director of TransGraph Consulting. "Most of the crops, except pulses, are available in abundance. Global supply is also good for most of the crops and if rains fail, India can import and control inflation."
Interest Rates
Palm oil prices in Kuala Lumpur tumbled the most in three months on Thursday on concern above-normal monsoon rainfall will boost India's oilseed output and help the world's biggest buyer cut reliance on imports. Futures dropped 2.4 percent to 2,237 ringgit ($604) a metric ton, the biggest decline at close since March 17 and the lowest price since May 29.
Consumer prices jumped 5.01 percent in May while food costs rose 4.8 percent, the Statistics Ministry said June 12. Reserve Bank of India Governor Raghuram Rajan, who cut interest rates three times this year, has said further action will hinge on the monsoon rain. He flagged a shortage of precipitation as the biggest risk to the economy because agriculture accounts for about 15 percent of gross domestic product.
El Nino poses a risk for the global economy in the second half because the event may hurt crops and boost world food inflation, Citigroup Inc. said this week. In India, forecasts for a weak monsoon after a heatwave in parts of the country should be a warning to policy makers as it could have an impact on rural consumption and food prices, HSBC Holdings Plc said.
"Though timely arrival of rains is good, distribution is more important and we have to see how the monsoon unfolds in July," said K.K. Singh, head of weather bureau's agriculture meteorology division.
Before it's here, it's on the Bloomberg Terminal.
LEARN MORE