Migrant Camps Become Paris Backdrop Amid EU Quota Wrangling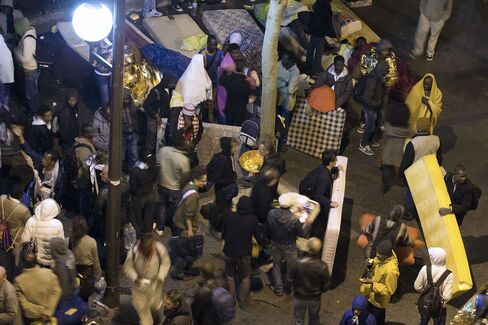 Tents and mattresses, open-air kitchens, cries for help, shows of exasperation: at the heart of Paris makeshift migrant camps are mushrooming in one of more visible consequences of the conflicts in Africa and the Middle-East.
Since the start of the year, European cities have been inundated by an unprecedented influx of refugees, overwhelming local authorities. The burden of sharing asylum seekers fleeing war, human rights violations and starvation is fueling tensions among European Union members.
"Europe is facing one of the most serious migratory crisis in its history," Interior Minister Bernard Cazeneuve said in Paris Wednesday as he announced steps to increase capacity to deal with the new arrivals.
Anne Hidalgo, the mayor of the City of Lights, is struggling to contain unauthorized camps as about 350 undocumented migrants settled in a park in the 18th district, in northeast Paris, and near the Austerlitz train station, closer to the Seine River.
Migrants in the French capital are seeking new homes after an initial group of 470 was dislodged by police forces from a bridge behind Gare du Nord, home to the Eurostar high-speed train terminal, earlier this month, getting worldwide press coverage. Most of them are from Eritrea and Sudan, according to Hidalgo's office. Some crossed the Mediterranean on rafts.
4,000 Beds
Hidalgo called for a facility to be set up in Paris.
"They can't stay out on the streets at night," she said on June 9.
The government will increase temporary accommodation for asylum seekers by 4,000 beds by early 2016 and speed up the process for asylum requests, Cazeneuve told reporters in Paris. French police will also step up crackdowns on illegal immigration rings, he said.
Prime Minister Manuel Valls's government fears being too welcoming could fuel political tensions and encourage more illegal immigration into the French capital, after an official camp near the northern town of Calais did just that and had to be shut down following riots in 2002. Now, thousands of migrants attempting to reach the U.K. sleep in forests and wasteland around the northern city, waiting for an opportunity to cross the Channel into the U.K.
"The first response is in Africa," Valls told lawmakers in Paris on Wednesday. "Europe needs to assume its responsibilities."
Two Toilets
Italy, where most migrants arrive in Europe, has been overwhelmed. In the absence of concerted efforts to deal with the issue in the region, Italy threatened this week to issue travel permits to allow movement to neighboring EU countries.
So far, French police has been stopped them at the border, close to the town of Ventimiglia.
In Paris, locals have reacted with shock at the migrants' dire situation. Protests erupted last week to demand more accommodation for refugees after the police tried to dismantle new settlements.
Over the last weekend, about 150 people, a majority of adult men and a handful of women and young teenagers, moved with makeshift tents and mattresses into the Eole gardens close to Montmartre hill and its famous Sacre-Coeur Church.
The new location is a clear improvement on Gare du Nord: the square has two toilets and a fountain. Neighbors and activists have put up signs requesting sheets, old mobile phones, shoes, clothes and rough sacks. An open-air kitchen has been set up to serve coffee and hand out food as locals turn up with dishes, pizzas and sandwiches.
President Francois Hollande will meet with Italian Prime Minister Matteo Renzi Sunday in Milan as Hidalgo remains under pressure in the capital. Activists staged another demonstration on Tuesday evening -- this time inside the Eole gardens.
Read this next:
Before it's here, it's on the Bloomberg Terminal.
LEARN MORE