Mickelson's Chase of Career Grand Slam Leads U.S. Open Wagering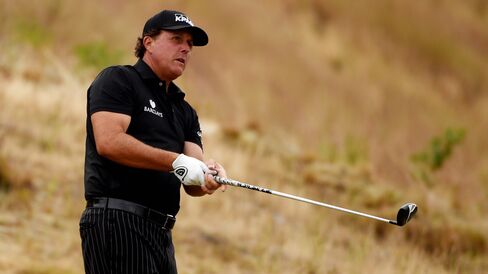 Mickelson draws more bets than any golfer at Vegas sports book

Left-hander has a record six runner-up finishes at U.S. Open
Phil Mickelson's pursuit of golf's career Grand Slam is proving popular with bettors who are wagering the 45-year-old left-hander will finally break through this week in the Pacific Northwest after a record six U.S. Open runner-up finishes.
Mickelson has drawn more wagers than any other player in the 156-man field, according to the Westgate Las Vegas SuperBook, the biggest sports book in Nevada. As a result, the SuperBook in the past week has lowered Mickelson's odds of winning to 15-1 from 20-1, tied for third behind Rory McIlroy(7-1) and Jordan Spieth(8-1).
"Anytime there's talk of something like that in the media, it just gets people to add him as part of their portfolio," SuperBook assistant director Jeff Sherman, who also runs the website Golfodds.com, said of Mickelson. "He's a fan favorite and when he shows some signs the week before it just gives added hope for people."
Mickelson, a five-time major champion, tied for third place at last week's PGA Tour stop in Memphis after shooting a final-round 65. It was his third top-five finish in his last five U.S. events, including his tie for second at the Masters Tournament in April.
Chambers Bay
The U.S. Open, which starts Thursday and ends Sunday at Chambers Bay Golf Course outside Seattle, is the second-most popular golf tournament at Las Vegas sports books behind only the Masters. The total amount of money wagered on Mickelson at the SuperBook trails only McIlroy and Spieth.
"He's always popular," Jimmy Vaccaro, who runs the sports book at the South Point Casino, said of Mickelson. "And he's replaced Tiger (Woods) now, at least in terms of value for your money."
Woods enters the U.S. Open with 60-1 odds at the SuperBook, tied for 22nd in the field. Woods, who has slipped to 195th in the Official World Golf Ranking -- one spot behind France's Julien Quesne -- won the last of his 14 major titles at the 2008 U.S. Open. Woods still remains popular with bettors, ranking fourth in the ticket count and money wagered at the SuperBook.
Mickelson is seeking to become the seventh golfer to capture the career Grand Slam -- victories in the U.S. and British Opens, the Masters and PGA Championship -- joining Woods, Ben Hogan, Bobby Jones, Jack Nicklaus, Gary Player and Gene Sarazen. Mickelson has three Masters titles and one win each at the PGA Championship and the British Open, the latter coming in 2013 at Muirfield Golf Links in Scotland.
Motivation
Mickelson said he's more motivated than frustrated by his U.S. Open close calls: he was the runner-up in 1999, 2002, 2004, 2006, 2009 and 2013. No other golfer in history placed second at a U.S. Open more than four times. A number of fans have shouted encouragement from the galleries as Mickelson practiced this week at Chambers Bay, saying this is his time to win.
"I'm enjoying that challenge," said Mickelson, who turned 45 yesterday. "It's not a burden. It's like an exciting opportunity. And every year it comes around, I get excited to try to conquer that opportunity and complete that Grand Slam."
Chambers Bay will play like a links-style course this week, with firm, fast conditions atop hard-packed sandy soil, and fescue grass from tees to greens. Mike Davis, executive director of the U.S. Golf Association -- which stages the tournament -- said its a far different style from traditional U.S. Open sites and will test the players' shot-making skills and abilities.
"It's going to require the players to really think their way around," Davis said.
One Tree
Robert Trent Jones Jr., who designed the course, picked Mickelson as one of his pre-tournament favorites, citing his creativity, experience and strong short game, which will be crucial around the greens at Chambers Bay.
"People who are imaginative, creative and highly disciplined, who aren't perfectionists and can accept bad bounces as well as good bounces, are going to prevail here," Jones said in an interview.
Mickelson said Chambers Bay, which features only one tree on the property, won't always require perfection from players, unlike some of the typical U.S. Open courses marked by tight fairways and thick, penal rough.
"You can miss shots and reasonably still salvage pars," Mickelson said. "There are banks and hillsides up by the green that balls will funnel back onto the green. If you know the right shot, can play the right shot into those hillsides, you don't have to be as precise as you do on a historical U.S. Open golf course."
While 8-year-old Chambers Bay is largely untested in terms of tournament golf, oddsmakers are projecting the scoring to be typical of a U.S. Open. Only three times in the past 10 years has the winning score been better than 1-under par. The SuperBook has set the over/under for the winner's total at 279 1/2, with 280 being an even-par score on the par-70 layout.
Over/Under
The over/under betting line for the lowest individual round is 66 1/2.
In his past four U.S. Open appearances, Mickelson has shot in the 60s twice over those 12 rounds. His total score during that stretch is 33-over-par, which includes his most recent runner-up finish at Merion Golf Club outside Philadelphia in 2013, when he was 3 over for the week. His other U.S. Open finishes since 2011 were ties for 54th, 65th and 28th.
Yet as he continues to chase the career Grand Slam, Mickelson this week is again receiving strong support, both on the course and at the betting windows.
"I've always been somebody, ever since I was a kid, that got motivated by failure, that worked harder because of failure," Mickelson said. "Some people get discouraged by that, and it almost pushes them away. But for me it's been a motivator to continue to work harder and get over that hump."
Before it's here, it's on the Bloomberg Terminal.
LEARN MORE