Mercedes's Curvy GLC Marks Shift From Rugged Styling of SUVs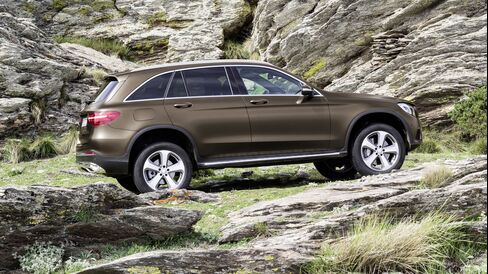 Mercedes-Benz is giving up on the idea that a sport utility vehicle needs to look like it can tackle rocky terrain and ford a stream.
The new Mercedes GLC compact SUV, shown to the public for the first time on Wednesday, sports a rounded hood and sloping back end. The 44,500-euro ($50,000) vehicle replaces the boxy GLK, which was introduced in 2008 and styled after the rugged G-Class offroader.
"Looking at the GLC, it's completely new, and the other SUVs are also pretty new," said Arndt Ellinghorst, a London-based analyst with Evercore ISI. The updated SUV lineup is "getting them into areas where they haven't been before and that are growing and profitable."
With the softer design, Mercedes is taking aim at the Audi Q5, the top-selling luxury model in the compact SUV segment. The GLC is one of four crossovers that will be rolled out by the Daimler AG unit this year, including the curvy GLE Coupe. The models, part of a 25 billion-euro investment plan through next year, are critical to Mercedes's efforts to close the gap to Audi and BMW after dropping to third in global luxury-car sales in 2011.
"We expect the GLC to take on the best in its segment," Chief Executive Officer Dieter Zetsche said at the unveiling in Metzingen, Germany. The company expects the model, which will be available as a plug-in hybrid, to outsell its predecessor as the design helps win new customers.
Adding an all-electric SUV to the Mercedes lineup "is a possibility," too, Zetsche told reporters. He declined to specify a timeframe for a decision on a vehicle that would compete with Tesla Motors Inc.'s Model X and Audi's planned battery-powered crossover.
Better View
With the GLC's more car-like styling, Mercedes is catching up to the trend of SUVs moving onroad as drivers from Berlin to Beijing appreciate the elevated seating position for a better overview, even in city traffic.
In addition to the new look, the GLC gets new technology, such as an optional autopilot for stop-and-go traffic and a system that automatically brakes for pedestrians and stopped cars. Mercedes will also offer a plug-in hybrid version of the GLC, with a range of as much as 34 kilometers (21 miles) under electric power.
The upgrades should help GLC deliveries, which start in September, to rise to 145,000 vehicles next year, compared with 136,000 GLK sales in 2014, according to market researcher IHS Automotive. While that should help the model nip ahead of the BMW X3 for second place in the segment, Audi's Q5 will still be the clear leader with global sales forecast to be more than 245,000 in 2016.
Before it's here, it's on the Bloomberg Terminal.
LEARN MORE