Jimmy Lee Advised Dealmakers From Immelt to Ma in 40-Year Career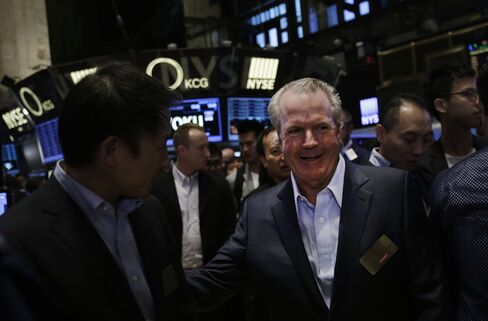 Jimmy Lee, who died suddenly Wednesday at the age of 62, helped broker some of the largest deals -- both takeovers and initial public offerings -- in the U.S. He was the subject of business-school case studies and the banker that executives from Jeff Immelt to Jack Ma had on standby.
To commemorate Lee's 40-year career, here's a list of some of his recent accomplishments.
* Alibaba's $25 Billion IPO
Lee helped manage Alibaba Group Holding Ltd.'s IPO last September, the largest on record. He built a relationship with Alibaba's co-founders Jack Ma and Joe Tsai in a matter of 15 months. During the deal was tasked with arranging meetings between Alibaba management and key investors, people familiar with the matter said at the time.
* $25 Billion Buyout of Dell
Lee advised Dell Inc.'s board of directors on the October 2013 buyout of the computer maker by Michael Dell and Silver Lake Management. The complicated deal involved six price increases before Dell's board would even agree to put the proposal to a shareholder vote.
Lee discussed the challenges of reaching an agreement in an interview as the deal closed.
"It's like going into a haunted house," he said, "and every time you go around a corner some ghost pops up, and then a witch flies down on a broom, and then you go into another room and some devil tries to stab you with a pitchfork."
* General Motors, Visa IPOs
Lee also worked on the second- and third-largest IPOs in the U.S. -- by General Motors Co. and Visa Inc. The companies raised $18 billion and nearly $20 billion, respectively.
"When you do a big IPO, you have to really understand the asymmetry of the risk," Lee said in November. "In other words, if you price it right, everyone is happy. If you price it wrong, you can damage the brand, you can damage the company. you've damaged company morale."
* United - Continental Merger
Lee advised UAL Corp. on its $3.5 billion deal to acquire Continental Airlines Inc. to create the world's largest carrier.
* General Electric's Deals
Lee was also advising General Electric Co. on its ongoing divestiture of its financial arm, and had worked with the company on other deals including its sale of NBC Universal to Comcast Corp. for about $30 billion.
"He was a trusted advisor to our company and he worked with us on every important deal we have done at GE," GE's Chief Executive Jeffrey Immelt said in an e-mailed statement. We loved him dearly and could not have been closer to him if he was a GE employee.''
Before it's here, it's on the Bloomberg Terminal.
LEARN MORE