Japanese Inflation Closes in on G-7 Pack
Since the unleashing of an unprecedented stimulus push by Prime Minister Shinzo Abe in 2013, the inflation gap has closed dramatically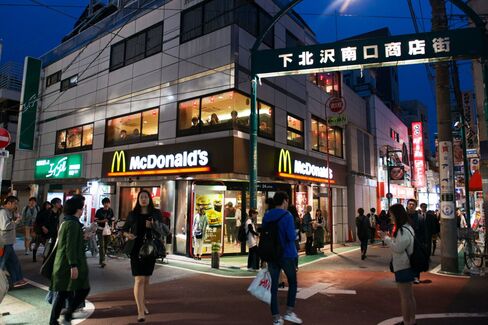 Japanese inflation is back in the big league.
After decades of slumping prices and stagnating growth, Japan's pace of inflation has closed the gap on peers in the Group of Seven developed economies.
As recently as 2012, Japanese inflation was an outlier when compared with the likes of Germany, the U.K., France and the U.S. But since the unleashing of an unprecedented stimulus push by Prime Minister Shinzo Abe in 2013, which has come to be called Abenomics, the gap has closed dramatically.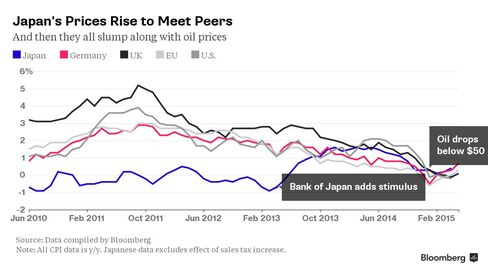 Abe came to office in December 2012 with a promise of ramping up fiscal stimulus in tandem with an expanded central bank bond-buying spree designed to boost prices. Those policies yielded initial results, with the inflation rate peaking at 1.6 percent in May 2014.
Since then, inflation has stalled in Japan and other big economies as falling energy prices drag down price growth. It remains a long way from the Bank of Japan's 2 percent target, with the central bank pushing back the timing of reaching that goal to around the six months through September 2016.
That has left economists predicting extra stimulus at some point this year, with some tipping October as a potential date to watch. Sixteen of 35 economists surveyed by Bloomberg this month see the central bank adding to its unprecedented easing by the end of October, down from 21 of 36 polled in May.
"We think that growth will be much slower in the rest of the year, so inflation is unlikely to pick up as quickly as policymakers hope," said Marcel Thieliant at Capital Economics. "We therefore stick to our view that more easing may be announced as soon as October."
For more on the global economy, check out Benchmark:
Before it's here, it's on the Bloomberg Terminal.
LEARN MORE